Chucky: Why Now Is The Best Time To Catch Up With The Amazing Horror Series
Chucky is one of the best things on TV, and now is a great time to catch up.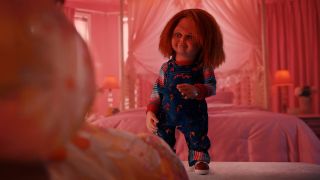 (Image credit: SYFY)
There is an unfortunately long history of horror franchises that continue to produce sequels and installments long past their expiration date, but that's one curse that Chucky the killer doll has managed to nimbly avoid. The voodoo-and-murder-loving possessed toy can't be said to have an immaculate track record, but the brilliant cinematic mayhem of his best movies far outweigh the weaker parts of the lesser titles, and the full breadth of what has been accomplished with the character is remarkable. After seven beloved films in the canon (all of which have their advocates in the fan community), the record of excellence has only been padded in recent years with two seasons of an amazing television series.
After first debuting on SyFy and USA Network in 2021, Chucky completed its second run of 8 episodes last November, and every hour-long chapter has been a delight. If you haven't been watching, you've been missing out – but the good news is that now happens to be the perfect time to catch up with the show, and there are five standout reasons why.
Chucky's Future Is No Longer Up In The Air: Season 3 Has Been Given The Green Light
Getting invested in a show that has an unclear future ahead of it can be emotionally taxing for television enthusiasts, but those who are interested in getting into Chucky need not worry about that issue. It's true that SyFy/USA Network kept fans in suspense about a renewal for nearly two months after the Season 2 finale, but that period of uncertainty has come to an end. On January 15, the news was made official that Season 3 is now in the works.
While it's true that the wait for new episodes is going to feel interminable, the announcement should give anyone on the fence about getting into the show the confidence to do so. Awaiting you with the cliffhanger at the end of Season 2 won't be tension about whether or not it will ever be resolved, but instead anticipation for the outcome that will hopefully be revealed within the next 12 months.
It's A Great Fix If You're Experiencing An Itch For More Killer Doll Mayhem After M3GAN
January 2023 has been a good month thus far for killer dolls, and that's not only because of the Chucky Season 3 announcement. Gerard Johnstone's M3GAN has made headlines by performing exceptionally well in theaters – the movie doing its part to raise the profile of the horror subgenre. Now fans are left counting down the days until M3GAN 2 gets made, but until that project arrives, why not spend some time with the homicidal toy who crawled, walked, ran and stabbed so that M3GAN could dance and slay?
One could make the argument that the PG-13-rated M3GAN is a training wheels program to graduate to the genius grotesqueries of Chucky – and if you're of an appropriate age to do so, you should definitely take the step (either by starting with the TV series or going back to the original Child's Play). The two dolls may have their own feud going online, but you don't have to choose a side as a horror fan – their homicidal tendencies should be enjoyed in tandem instead of in contrast.
2023 Is An Anniversary Year: Chucky Is Turning 35!
If you've simply been waiting for any general excuse to dive into the world of Chucky, here's one to chew on: this year marks a special birthday for serial killer Charles Lee Ray, as it was 35 years ago that the Brad Dourif character evaded police pursuit by transferring his soul into a Good Guy doll. The original Child's Play first hit theaters in November 1988, and the Chucky TV series is notably an amazing celebration of everything that film spurred on.
The Chucky show is very accessible for audiences not overly familiar with the seven movies that preceded it – as it introduces its own new ensemble of protagonists for the eponymous killer to terrorize – but one of the most impressive things that creator Don Mancini has done with the series is make it deeply faithful to the larger canon. It goes to some extreme and amazing lengths to fortify the continuity of the franchise, the best being the fact that Alex Vincent is still playing Andy Barclay, Chucky's true nemesis, three-and-a-half decades after first portraying the character as a six-year-old in Child's Play. The impressiveness of that alone should inspire any pop culture fan to check it out.
There Is Never A Bad Time To Start Watching A Crazy Gory, Super Funny, And Ridiculously Entertaining TV Series
I've been attempting to be cute in this feature explaining why the stars are presently perfectly aligned for audiences to start getting into Chucky, but there is one larger reason to do so independent of recent news, other pop culture developments, or anniversaries: it's a great show, and great shows deserve to be watched. There is a wonderful cast of characters featured in the terrorized town of Hackensack, New Jersey – the trio of leads played the talented Zackary Arthur, Bjorgvin Arnarson, and Alyvia Alyn Lind –and there is unquestionably some of the best horror content that you'll find on the small screen right now.
Properly tuned sensibilities will have you smiling and laughing along with Chucky during his giddy, blood-soaked rampages, and the show is regularly quite witty and funny – but it's also a series with a deep capacity to shock as Charles Lee Ray bolsters his reputation as a habitual line stepper who really doesn't care who he is killing so long as he is killing. It makes for a fascinating blend that allows for the unexpected to unfold with every chapter, and it's must-see television. It's the best franchise-based horror series since Hannibal.
Chucky Season 1 And Chucky Season 2 Are Both Easily Accessible
Are you now stoked and ready to watch Chucky? The best news I have for you yet is that it's exceptionally easy to do so. If you want to watch Season 1, all 8 episodes are available to stream with a Peacock subscription, and a Blu-ray set (opens in new tab) was released last April. If you want to watch Season 2, you can digitally purchase episodes via Amazon (opens in new tab), Vudu (opens in new tab), Google Play, and Apple (opens in new tab) (all of those services also have Season 1).
For more horror-centric reading here on CinemaBlend, check out our guide to Upcoming Horror Movies and our ranking of the best horror movies of all time.
Your Daily Blend of Entertainment News
Assistant Managing Editor
NJ native who calls LA home and lives in a Dreamatorium. A decade-plus CinemaBlend veteran who is endlessly enthusiastic about the career he's dreamt of since seventh grade.