Heroes' Tim Kring Producing Teen Drama Exp For The CW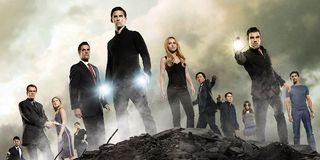 It looks like The CW is determined to get a Tim Kring series on their network. Last month we learned that the Heroes creator was developing a drama for the CW based on the upcoming book Dorothy Must Die and today comes word that Kring's production company Tim Kring Imperative and Warner Bros. TV are teaming up for another project being put into development for the network, and this one sounds a bit closer to Heroes than the Oz-set drama.
Deadline reports that the CW has put Exp into development. The drama is being penned by Zach Craley and Jarrett Conaway and will involve teens with extraordinary abilities.
Not so sure about the title, not so much because it doesn't seem like a word (perhaps it's a reference to this performance-enhancing drug?) but because it's strange to pronounce. But that's a minor criticism. The premise itself sounds interesting and falls in line with some of the other programming the CW has been running with. From super-hero shows like The Tomorrow People and Arrow to supernatural shows like The Vampire Diaries and The Originals, the CW has been building up its slate of series about young, pretty people that can do extraordinary things.
Of course, with Kring involved, it's easy to draw comparisons to Heroes. The NBC drama series focused on seemingly ordinary humans who discovered they have superhero-like powers. This included a few teen characters. The phrase "Save the cheerleader, save the world" because a catchphrase for the drama in its freshman season, which was arguably its best. In the case of Exp, it sounds like the drama would focus primarily on teens. And the reason behind these powers stems from this illegally trafficked drug, which suggests something a bit more sci-fi than supernatural, unless there are other unmentioned factors. There's definite potential for exciting stories to be told there, and an opportunity too blend teen drama with supernatural or sci-fi adventure.
As mentioned, this is the second recent project in development from Tim Kring at CW. Last month we learned that Kring was teaming with Adam Armus and Nora Kay Foster to develop Dorothy Must Die for The CW. The book has yet to be published but is something of a sequel to The Wizard of Oz, taking place years after Dorothy has returned to Oz and become a power-hungry dictator. The book on which this potential series is based is due out in April and there's a prequel novella that sets up the story set to arrive next month.
Your Daily Blend of Entertainment News
Thank you for signing up to CinemaBlend. You will receive a verification email shortly.
There was a problem. Please refresh the page and try again.