The Hills - D.C Edition: Blonde Charity Mafia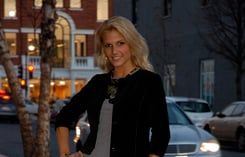 Did you know The Hills averages around 4 million viewers for every episode? Can you imagine that there are that many people out there who have nothing better to do than watch this crap? Honestly, I've never seen an episode, and I had no idea who the freak Audrina, Lauren and Speidi were until I went to that bastion of truthiness… Wikipedia.
I guess Lifetime is banking on those 4 million people to tune in for their latest offering, Blonde Charity Mafia. Most people are just calling in The Hills DC edition, because it will be set in the nation's Capitol. The stars of the show are Katherine Kennedy (no, she's not a real Kennedy), and her "best friends" Krista and Alexa Johnson and Sophie Pyle.
Did I just hear a collective "who?" Yeah, that's what I was thinking too. So, I did a little quick research. It seems that Katherine Kennedy is the self-described "real Elle Woods". You can read all about it at BigHeadDC.com . She does seem to have a brain, but anyone who calls themselves Elle Woods might be a teensy bit full of herself. She apparently is a web guru - but that may or may not be true. There are rumors on the web that her history may be a little embellished.
The description I read, posted on The Futon Critic says,: "In the city that is home to some of the world's most important power players, one group of young women dominate the social scene, an exclusive group known as the 'Blonde Charity Mafia,' comprised of the capital's social heavy-hitters, Katherine Kennedy and Krista Johnson. Also featured is Sophie Pyle, an acquaintance of the girls, who is always in attendance at the charity functions thrown by Katherine and Krista. Their events are always a hot ticket; their dating lives are gossiped about; and sometimes merely their simple daily activities are chatter within the D.C. social set. Throwing these glamorous soirees every week, they are the young personalities of Georgetown and the darlings of the city's most fashionable clubs and hottest restaurants."
Apparently, being rich and throwing parties is a rough gig, though. "Jessica Samet, Senior Vice President, Reality Programming, Lifetime Television, said, "Katherine, Krista and Sophie are at the epicenter of Georgetown's young cultural scene. This absorbing series will pull the curtain back on the fragility of friendship among the beautiful, wealthy and powerful."
Man, that must suck. Being beautiful, wealthy, and powerful – but having fragile friendships. Do you think maybe it's because they don't do anything? There's a country song that talks about people not having enough business of their own, they have to mind everyone else's. I think that kind of applies to the girls on the show, and the people who are watching it – don't you?