House's Jesse Spencer Cast In NBC Pilot Chicago Fire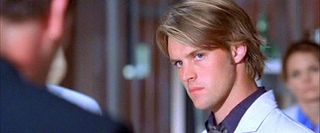 Jesse Spencer isn't sitting around mourning the cancellation of House. He's already picked up a pilot gig, this time as another sort of life saver. Spencer has been cast in the lead role as a firefighter on the NBC project Chicago Fire. From a doctor to a firefighter, this guy sure likes his roles as dramatic as possible.
When word broke that House would end its run after the current season, few were surprised, the cast least of all. Many of them supported the decision to end the show this season and wrap up the loose ends. So it's not really surprising that the stars of the show are already looking for new jobs. Spencer was beat to the punch by House co-star Peter Jacobsen, who already signed on for a role on Showtime's Ray Donovan.
Spencer is one of the original cast members on House, and has been playing Dr. Chase for eight seasons. Deadline reports that he's been cast as Matthew Casey, a firefighter who handles his job without fear but doesn't do so well in his personal life where he's struggling with a separation from his wife. Already cast in Chicago Fire's pilot are Monica Raymund of The Good Wife and Vampire Diaries star Taylor Kinney, along with Charlie Barnett.
The House finale will air on Fox on May 21, after which all of Princeton Plainsboro's employees will be off in search of new jobs.
Your Daily Blend of Entertainment News