House of Lies Preview: Episode 4, Mini-Mogul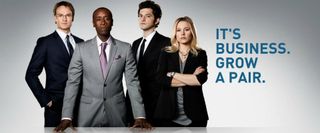 Showtime's House of Lies is a messy show. It's not so much that the characters and the situations they get into are messy - even though they certainly are that too - but the series as a whole seems a little slapped together. It's very tonally, thematically and stylistically inconsistent which leaves the final portrait muddled at best. The second episode was immeasurably better than the premiere but unfortunately that trend did not completely continue last night in "Microphallus." While there were some structural improvements, overall the episode was a serious step back in quality while still offering glimmers of hope for episode 4 - "Mini-Mogul."
The first clip has the Galweather team, sorry the 'Pod' (I keep forgetting), brainstorming in a coffee shop. Only this time, they have a fifth member of the team to provide a little ammunition against 'Daddy' - it's a little odd in this scene because Cheadle's Marty is both a literal and figurative 'Daddy' here - like his stint on Jenny Craig. Roscoe looks great as part of the actual action and we may finally get to see the little man act and express himself outside his scheduled 'shock-the-audience' appearances. It's also worth noting that Kristen Bell's Jeannie immediately spots guest star Nick Stahl as he strolls inside… I wonder if that will come into play at all in the episode?
And the second clip form the show takes us right from the previous strategy session to the actual meeting with this week's client, the titular "Mini-Mogul." In this look, you can see Marty's plan to pull a power switcheroo (as discussed in Clip 1) within the client's company including, uh, ousting him. How will Marty achieve this feat, well, as you can see in the clip, he's going to make it seems like leaving is not only the best movie but actually the Mini-Mogul's idea. I also really like Doug's work in this brief excerpt. Actually, I like Josh Lawson's work as Doug almost all the time. See what you think.
As always, those in the right region can also watch the full preview for "Mini-Mogul." It gives a better overview of the episode and highlights that this week will pay extra special attention to Jeannie. It seems her fiancee (?) wants to meet the boys at G&S while she's more interested in dancing in her undies for the mysterious musician played by Stahl. If you weren't tuning in before, after you watch Kristen Bell dance, you will be. Wow.
House of Lies is set to premiere on Showtime, January 8, 2012 at 10 p.m. It stars Don Cheadle, Kristen Bell, Ben Schwartz, Josh Lawson, Dawn Oliveri, Glynn Turman and Donis Leonard Jr. It was created by Matthew Carnahan.
Official Synopsis via Showtime.
Your Daily Blend of Entertainment News
Thank you for signing up to CinemaBlend. You will receive a verification email shortly.
There was a problem. Please refresh the page and try again.