Interview: FNL's Stacey Oristano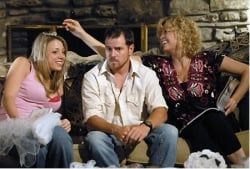 As Tyra Collette's older sister on Friday Night Lights, Mindy Collette represents everything Tyra has realized she doesn't want to be: a stripper stuck in Dillon about to marry a Riggins. To viewers, she's hilarious: who wouldn't want friends named Fashionista and Aquanet? And really, when it comes down to it, who doesn't want to drink Scotch out of a teacup?
Recently, Stacey Oristano, the actress who plays Mindy was nice enough to talk to me about what working on Friday Night Lights is like, what the cast knows or doesn't know about next season, and where we'll be able to see her soon. She also lets us know what a "Riglet" is.
First off, I want to congratulate you on the big news about Friday Night Lights getting picked up for two more seasons.
Yeah, I'm excited! It was big news.
Friday Night Lights has pretty much been on the bubble since it premiered, so for it to get not only a 4th season, but a 5th as well, is pretty impressive.
Yeah, and it's interesting because we're all kind of waiting to see what happens. None of us has any idea what's coming up in the next season.
Really? So producers haven't talked to the cast at all?
Nope. Nobody knows anything.
With so many of the main castmembers graduating high school, what's going to happen? How is it going to go on?
There are just so many different directions the writers can take it in, and we trust them implicitly, but it's definitely going to be a new group of people because we have four or five seniors who are graduating now and moving on. We don't know if they're going to follow them to college or if they'll just come back for a couple of episodes. None of us have any idea what's happening.
It sounds like a few of the characters who are graduating may be staying around the general area, but you can't follow the characters in college too much, because what about Coach Taylor and the Panthers?
Right; absolutely. The show is about a high school football team, so I think that's where it has to keep its focus.
This season for you has probably been your biggest season on the show, with your engagement to Billy Riggins, and the whole bridal shower episode...
(Laughing) I know, and the dress!
I think the bridal shower name cards were some of my favorite things on the show all season.
The crew had so much fun with that. They made up a ton of stripper names,[...] like "Sprinkles in the shower," and Sugar, and Fashionista. I've been trying to figure out if Mindy has a stripper name, or if she just has … Mindy.
I know you don't know what's happening next season in general, but do you know what's happening with Billy and Mindy?
No, I don't even know if we're coming back.
Well, I would think that since so many people do have to leave, they'd want to keep as many of the non-high school people around as possible.
I would hope that they would want to have a comfort level, so that the audience that we have already would say, "okay, I know these people, so I'm comfortable here, and let's meet the new people." I have no idea. Fingers crossed; that's like my second home and I can't wait to get back down to Austin and start working again. I love it so much.
Mindy really started out as almost a background character, but she's become pretty important to the main storylines this season. All of the Mindy/Lyla scenes are hilarious.
Yeah, obviously I have my mom and my sister, and now this relationship with Billy, but anytime she's with a new character, it's such a weird, new comedy dynamic. She's so awkward when she's with anybody.
Especially in the episode that just aired, with Landry waking up on the floor after that party, and you coming out and giving him a ride home. Just seeing Mindy and Landry together alone is just the weirdest thing in the world.
Yeah, I can't imagine what they talked about in the car (laughs).
While you've become a bigger part of the show this season, your mom has as well, and it's brought an interesting dynamic to Tyra's character.
I think that they developed Tyra from this bad girl to this girl who really craved and longed for something bigger than the town. The really good thing that they decided to do was to look to her mom and her sister to realize what she doesn't want to become and what she doesn't want to be, […] so our job as supporting characters and supporting actors is to be these people that she doesn't want to be, which could be awful, but we think it's so much fun. We love it.
Mindy just seems like a really fun character to play. You just kind of run around, being crazy and getting really emotionally involved in Finding Nemo.
Yeah, when she is passionate about something, watch out! It's so much fun. I guess we're similar and different, but she's just crazy and fun-loving, and doesn't give a crap. It's really fun to get to do that.
You know what I really want to see? I want to see some Mindy/Billy babies running around.
All I can say is, watch the finale...
I want to talk a little bit about the way Friday Night Lights is shot. While you guys obviously have scripts, it's not so important to hit every single line the way it's written, is that correct?
Yeah, they give us a skeletal outline of a scene, and we get told if there's points we absolutely have to hit or lines that need to be exact, but they give us so much freedom. We improvise a lot of what we do. Since we know these characters so well, we know the way that they would talk. When we're shooting, they'll keep the cameras rolling and see if anything good comes up. There's so much freedom and it's really, really amazing.
So you just filmed an episode of CSI?
Yes, I just finished last week. I had the most fun on that show, with the people on CSI. I get to play the killer, and she-- well she's not actually a bad girl; she's just pretty stupid. It was so much fun getting down and dirty and dragging dead bodies, and there's a huge fight. My God, it was so much fun.
Going from the way Friday Night Lights is shot to the way that CSI is shot must have been kind of a sensibility shock, right?
It was incredibly different. I was ready for it though. I'm trained in theater, and that's how it is there; you have to learn all of your lines exactly, so it was like that. It was so much fun though; it was a blast. I'd go back any time.
Well, once again, congratulations on the pick up, and hopefully we'll see you back in season four, with some little Riggins babies running around.
Yes, hopefully. Oh, and Taylor (Kitch, who plays Tim Riggins) calls them "little Riglets," he says, "we need to get some little Riglets running around up in here."
(Laughs) All I can picture are these little dirty, drunk, shirtless babies running around...
Yeah, just thinking about the kind of parents Mindy and Billy would be, and the comic gold that would come from that--it just blows my mind.
Your Daily Blend of Entertainment News
Thank you for signing up to CinemaBlend. You will receive a verification email shortly.
There was a problem. Please refresh the page and try again.