James Franco And More Just Joined HBO's Porn Drama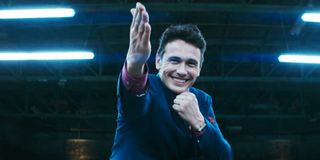 A couple months back, word came out that The Wire creator would be heading back to HBO with a new project about the rise of the porn industry. The series, entitled The Deuce would take a look into the early 70s and 80s porn industry in New York City, and now, it has signed on two big names as it nears production. Breaking Bad's Michelle MacLaren is up for the directorial gig, while James Franco is set to star in the drama.
According to The Hollywood Reporter, HBO ordered two new pilots from The Wire creator, David Simon with both scripts slated for back-to-back production. The Deuce is scheduled to start first and word is that the porn drama has already grabbed both Franco and MacLaren as potential series star and director. The second order is an untitled political drama set in present day Capitol Hill and will take a deeper look into partisanship and the influence of money on national governance.
The former series, The Deuce is set to begin filming in October in New York. If Franco stays on to star (which sounds like the perfect fit role for the Pineapple Express actor) he will be centered in the story of the legalization of porn and the rise of its industry in New York from the early 1970s continuing through the mid-1980s. Mid-town Manhattan was a rough place at the time though, with the rise of HIV, a violent cocaine epidemic and a renewed real estate market. The Deuce, named for 42nd Street is partly inspired by twin brothers who were big players in the Times Square happenings, and soon became fronts for the mob control of the sex industry. Apparently Franco will be playing both twins. The actor has a lengthy, and eclectic resume, but is he ready to take on a two characters at once? This likely won't be the type of gangster mobster he's played before.
As for Michelle MacLaren, the Primetime Emmy Award winner has a wide variety of experience outside of directing and executive producing Breaking Bad. She's directed a number of HBO series, including four episodes of hit fantasy drama Game of Thrones. In early November, MacLaren was signed on to develop the script and direct Wonder Woman but recently left the project after creative differences. Luckily, now she'll have the time to tackle more TV projects, including this David Simon and George Pelecanos script.
More details on the future of this project will likely come as the pilot goes into production. Stay tuned.
Your Daily Blend of Entertainment News
Your Daily Blend of Entertainment News
Thank you for signing up to CinemaBlend. You will receive a verification email shortly.
There was a problem. Please refresh the page and try again.