Jane Fonda Signs On For ABC Comedy Now What?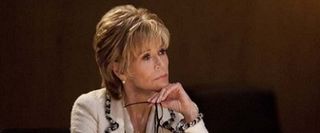 ABC has nabbed Jane Fonda for a new comedy project in development called Now What?. The septuagenarian star and two-time Oscar winner would be taking on her first starring role on television should the project make it through to series.
The storyline revolves around the fallout of a blog post written by Fonda's character's daughter outlining the many reasons why she hates her mother. After reading it, Mom decides she's going to move in with said daughter and refuses to leave until they've worked things out. I can't imagine any possible way that could end badly – or humorously, I suppose. Writer Abby Gewanter of Pushing Daisies brought the project to ABC, and Scott Ellis of 2 Broke Girls will direct and executive produce, along with Mike Tollin and Ben Spector of Tollin Productions, says Variety.
Fonda recently appeared in a four episode arc on The Newsroom and has an upcoming role as Nancy Reagan in the star-studded drama The Butler, a feature about a White House butler who serves eight Presidents over the course of three decades. Alan Rickman plays Ronald Reagan opposite Jane, and John Cusack, Robin Williams and James Marsden will play Presidents Nixon, Eisenhower and Kennedy respectively - just a few of the big names in the credits.
Now What? is certain to have a lot of buzz around it with a big name like Fonda attached, but we'll have to wait and see if it lives up to the potential. Fonda doesn't do much in the way of comedy, and has Best Actress wins for two 70's dramas, Klute and Coming Home. She did do the comedy film Monster-in-Law a few years back and was part of the classic 9 to 5. TV comedy is somewhat different, however, so this could be a new challenge for Jane.