Jennifer Tilly Will Guest On The Simpsons Next Season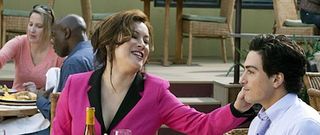 Jennifer Tilly is lending her voice and her poker expertise to an episode of the The Simpsons to air early next season. It seems Lisa needs to learn to play poker – online poker, that is - like a shark, and Tilly is just the woman to teach her.
EW reports that Tilly – who happens to be the ex-wife of Simpsons co-creator Sam Simon – plays herself in the episode. Lisa, who discovers that Homer has stashed her college money (wait, there is college money for Lisa?) in an online poker site, has to learn how to play the game. She enlists the aid of an instructional video headlined by Jennifer Tilly. Tilly actually is a well known poker expert – she has won a World Series of Poker bracelet for Ladies No-Limit Texas Hold 'Em where she came out on top of 600 other players. It's reported that her tournament winnings have reached over $660,000. So you could say she's pretty good at it.
Tilly's episode will be part of The Simpsons' 24th season. She's been a regular guest voice over on Family Guy as neighbor Bonne Swanson, but this is her first time on Fox's flagship animated series in spite of being married to Sam Simon during the first few years the series was on the air – they divorced in 1991. Simon left the show in 1993 but is still named in the credits. I don't know if the divorce was pleasant, but apparently her appearance on the show was. Executive producer Al Jeans quipped that having the Bride of Chucky on the show was great, and "only three people in the crew were mysteriously killed."
Your Daily Blend of Entertainment News