Jessica Lucas Joins Cast Of CSI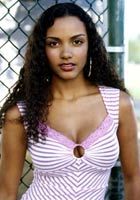 Next to join the cast of CSI: Crime Scene Investigation, a series poised to bump Law & Order from the coveted first spot on the list of television shows with the most spin-offs, is Jessica Lucas. Lucas will star in the recurring role of Veronica Lake, not to be confused with the 1940s pin-up and femme fatale. Veronica, or Ronnie, is a CSI-in-training and speculation has abounded that perhaps Lake is meant as a replacement for Sara Sidle (played by Jorja Fox), whose survival at the end of the Season 7 finale was dubious. According to The Hollywood Reporter, however, Veronica will be a new member of the CSI team rather than a replacement.
Lucas at least has the distinction of joining the original CSI as opposed to one of its several spin-offs. I hear that all of shows in the CSI family are quite good, so this is not to impugn the quality of CSI: Miami or CSI: New York, but there's definitely something to be said for the original. After all, The New Class is no Saved by the Bell.
You may remember Jessica Lucas from her roles in such memorable vehicles as The Sausage Factory, 2030 CE, or Edgemont, the Canadian television series. No? Then, maybe you saw her in She's the Man,, that movie starring Amanda Bynes in drag. You didn't see that one? Me neither. Well, here's your chance to get your fill of Jessica Lucas, without actually having to watch reruns of Canadian teenage angst.
Your Daily Blend of Entertainment News