Jezebel James Gets Dumped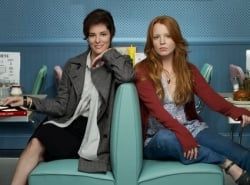 Just because you created one long-running beloved series, doesn't mean that people will give a crap about your next show. Aaron Sorkin learned that after Studio 60 failed to catch fire like The West Wing, and now Gilmore Girls creator Amy Sherman-Palladino is learning the same difficult lesson. Her new show, The Return of Jezebel James, has just been canceled.
When Jezebel James was readying its premiere at last year's upfronts, it was one of the more highly-anticipated new series. Not only was Sherman-Palladino at the helm, but Indie queen Parker Posey and Six Feet Under star Lauren Ambrose were cast in the leads. It was a combination that was guaranteed to succeed—until it didn't.
The upfronts didn't go as planned. Critics came away confused, saying the show didn't really come together and it inexplicably featured a laugh track. Fox was similarly displeased with the pilot and cut the episode order down from 13 to 7. The network's confidence in the series didn't exactly improve, as evidenced by Fox's decision to move the show from Wednesday nights into the Friday night TV wasteland. When the first two episodes premiered back to back on March 14th, the ratings were dismal, only attracting just over 3 million viewers. The third episode aired the following week, but since there wasn't a huge ratings improvement, Fox gave it the ax.
Currently, there are no plans for the remaining 4 episodes to air at all. Instead, Fox will be filling Jezebel James' time slot with Bones reruns. I didn't manage to catch the show, so I can't speak to how good or bad the episodes actually were, but I did love Gilmore Girls, so I'm kind of disappointed that Jezebel James wasn't given time to grow. Did any of you see it? Was it worth saving, or was its swift painless death for the best?
Your Daily Blend of Entertainment News
Your Daily Blend of Entertainment News
Thank you for signing up to CinemaBlend. You will receive a verification email shortly.
There was a problem. Please refresh the page and try again.