Jim Gaffigan Sells Single-Camera Comedy To NBC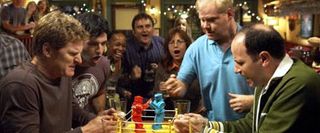 Jim Gaffigan is preparing to join his Going the Distance wife on NBC. Unfortunately, the strangely-bearded comedian won't be popping up on his fake wife Christina Applegate's comedyUp All Night. The good news is Gaffigan will be promoted from guest star and side role to leading man, a role he hasn't really held on TV ever, unless you're counting the animated project Pale Force or My Boys.
If Gaffigan is anything, he is a comedian, which means he's probably pretty used to being the show. However, he must find the sideshow thing to be pretty lucrative since he has spent the last few years popping up in side roles in films and as guest characters on TV programs. You may remember him as a drug counselor in a 2010 episode of Bored to Death, although I prefer to think of him as Allison Janney's husband in Away We Go or the coach in 17 Again (Don't judge; I have a soft spot for this movie, since it is the first movie I ever reviewed for Cinema Blend).
Jim Gaffigan's day as an actor may have finally come. Deadline is reporting NBC has bought Gaffigan's single-camera comedy, a venture he will both star in and produce, alongside Scot Armstrong and Ravi Nandan's American Work studio. The storyline will follow a lazy dude in New York with four kids and an incredibly competent wife. The whole project sounds like a pretty huge compliment to Gaffigan's wife, as the story will be based on his real-life home situation. If the comedy goes to series, my guess is everything will be good for Gaffigan until he writes an embarrassing family story into the script.
Your Daily Blend of Entertainment News
Thank you for signing up to CinemaBlend. You will receive a verification email shortly.
There was a problem. Please refresh the page and try again.