Josh Brolin To Narrate History's Mankind The Story Of All Of Us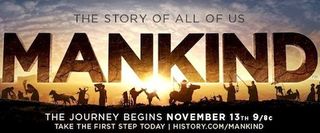 Set to premiere later this fall is History's 12-hour/6-night TV event Mankind The Story Of Al Of Us. Today, the channel that brought us Gettysburg, America The Story of Us, Hatfields & McCoys, Vietnam in HD and 102 Minutes That Changed America, announced that Josh Brolin would be narrating their latest endeavor, which chronicles the history of man.
History is calling this an "expansive follow-up to America the Story of Us." Over two years in the making, the special, which will air over the course of six nights, will have the first global series premiere in the history of History. Josh Brolin, whose recent credits include Milk and No Country for Old Men (but who I will always associate with Brand from The Goonies), will narrate the special, which he describes as ambitious television series.
It definitely sounds like an interesting mini-series, and these days, a celebrity narrator is a must-have for specials like this one. Brolin seems like a pretty fantastic choice in that regard.
Mankind The Story of All Of Us is set to premiere on Tuesday, November 13 at 9:00 p.m. While network TV's a bit packed on Tuesday nights, those looking to work a bit of educational programming into their line-up may want to give this one a try.