Kathy Bates Will Play Charlie Harper's Ghost On Two And A Half Men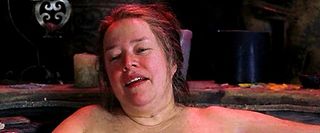 If I had to make a short list of people to play the ghost of deceased Two and a Half Men character Charlie Harper, I'm not quite sure who would top the list. But I can tell you Kathy Bates wouldn't even cross my mind. She crossed someone's mind however, since the Oscar-winning actress will in fact play the ghost of not-so-dearly-departed former star of the series, Charlie Sheen.
Deadline reports that Kathy Bates will appear as Charlie's ghost visiting Alan's (Jon Cryer) hospital bedside in the April 30th episode of the show. Don't worry too much though, it doesn't sound like Alan's hospital visit is a serious one – another death is not in the cards for Two and a Half Men. Clearly Sheen himself wasn't a contender for a cameo as his former self, given the spectacularly scandalous circumstances of his departure from the show. But how Kathy Bates came about, well, I don't even know where to begin figuring that one out.
Interestingly, Bates has played a role meant for a man before, on Harry's Law over at NBC. But playing a dead man's ghost – that appears to be a first for her. Anyone who has seen About Schmidt carries with them the absolute certainty that Bates is, in fact, not a man. That and a mental image that might never go away.
Although there's no sign of the demise of any major characters, Two and a Half Men has yet to be renewed for another season. Negotiations are in progress, and Oscar winning guest stars certainly can't hurt.
Your Daily Blend of Entertainment News
Thank you for signing up to CinemaBlend. You will receive a verification email shortly.
There was a problem. Please refresh the page and try again.