Katy Perry Will Take Her Cleavage To The Simpsons And Turn Homer Into A Muppet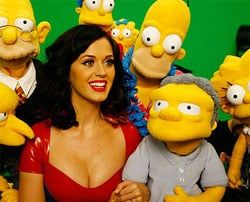 The Simpsons is planning a parody of Katy Perry's controversial Sesame Street cleavage problem, with a little help from Katy Perry herself. The singer is set to guest star on a Christmas-themed Simpsons episode to air on December 5th which will, incidentally, involve Simpsons puppets.
It's the iconic animated show's second foray into live action. They first pulled it off in the legendary 1995 "Treehouse of Horror VI" in which a computer animated version of Homer appears wandering around city streets. Call me crazy but, I think the puppets look better. Here's the promo photo released by Fox to EW:
In the episode, the cleavagey Katy Perry will play Moe's girlfriend and sing "The 39 Days of Christmas" with Homer and the gang. It's a fun idea, but you have to wonder if anyone will even remember the Perry/Sesame Street incident by then. Sesame Street deciding not to air Perry's skit with Elmo because she looked to sexy may seem like a hot conversation topic now, but by December I'm pretty sure we'll all be over it.
Your Daily Blend of Entertainment News
Thank you for signing up to CinemaBlend. You will receive a verification email shortly.
There was a problem. Please refresh the page and try again.