Kevin Nealon To Join Marcia Gay Harden In Isabel Pilot At NBC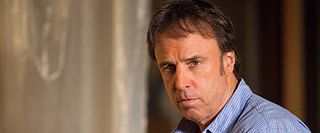 NBC is on a roll with casting for its new series. The latest news is that SNL alum and Weeds co-star Kevin Nealon has been cast opposite Marcia Gay Harden in the pilot for Isabel, which has already started filming. The news comes only a day after Anne Heche was cast in another NBC project, Save Me, adding another big name to NBC's pilot roster.
Deadline reported the casting news this morning. Nealon's current commitment for Weeds won't be a problem; filming for the pilot won't interfere with his work over at Showtime. Even if this isn't the final season for Weeds as has been rumored, NBC will claim Nealon first over a potential ninth season. I'll be surprised if Weeds gets another season, so if all goes well with the pilot for Isabel hopefully we'll still be able to get a Kevin Nealon fix.
Isabel is based on a French Canadian television series called Le Monde de Charlotte about middle class family facing the usual challenges and the unusual addition to the list of problems of a daughter with magical abilities. Nealon has been tapped to play the father; Marcia Gay Harden was previously cast as the mother. Nealon's character is an insurance salesman, a role I have no trouble picturing him playing. The storyline seems to be an interesting combination of the classic family comedy mixed with the still booming supernatural trend. With Nealon and Harden an board it sounds a lot better than I might otherwise think.
Your Daily Blend of Entertainment News
Thank you for signing up to CinemaBlend. You will receive a verification email shortly.
There was a problem. Please refresh the page and try again.