Kevin Sussman Promoted To Series Regular On Big Bang Theory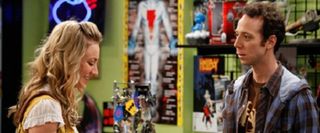 Big Bang Theory's cast of regulars has increased by one. When the sixth season premieres in September, Kevin Sussman will take on a new status as a series regular, upgraded from recurring, although he is still not expected to appear in every episode. Looks like Stuart might be selling some more comic books this season.
Sussman has been a recurring character on Big Bang Theory since its second season, so he has definitely earned his stripes on the set. He plays the comic book store manager, Stuart, and will now be showing up more frequently. He has appeared in 15 episodes in the past, according to Deadline, and this season he's likely to show up in more than half of the episodes. He is number four in a line of actors on the show to get the promotion from recurring to regular; previously Mayim Bialik, Melissa Rauch, and Sara Gilbert were all bumped up, but Gilbert isn't with the show anymore.
Sussman's character has been a catalyst in some big moments on the series, and no doubt this promotion means Stuart will be playing an important role once again this season. Sussman has just finished up an arc on Weeds, and his new regular status on Big Bang should keep him pretty busy this season. Big Bang Theory premieres its sixth season on September 27th as a lead-in for Two and a Half Men in CBS's Thursday night lineup.
Your Daily Blend of Entertainment News