Last Resort And 666 Park Avenue Cancelled By ABC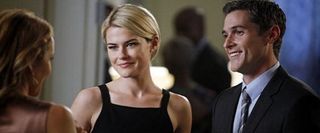 ABC has pulled the plug on two of its new fall shows today, and considering low ratings and tough timeslots for both of them it's not a big surprise. Neither Last Resort and 666 Park Avenue will get their back nine, leaving Nashville as the only new drama that the network has picked up for a full season so far.
Last Resort, which followed the crew of a U.S. submarine who defy orders to fire nuclear weapons and seek refuge on an island, struggled in the ratings from day one. Going up against CBS' The Big Bang Theory in its 8 p.m. Thursday night time slot as well as Fox's The X-Factor's results show, the new drama had an uphill battle it failed to win. This makes four shows in a row that have failed to get a renewal in the same timeslot, the last successful show being Ugly Betty; the odds were very much against Last Resort succeeding.
666 Park Avenue, a supernatural drama about a New York apartment building with a demonic manager, may have had even less of a chance than Last Resort in its Sunday night spot opposite NBC's Sunday Night Football and CBS' The Mentalist. The too-obvious address which was then chosen for the title gave it a cheesy feel from the start, and the premise itself was a bit bizarre. Not that bizarre can't work these days, but not on Sunday nights on ABC up against tough competition.
Variety says ABC plans to air the rest of the already produced episodes for each show, and hasn't yet dropped the options on the shows' stars, so the final nail isn't in the coffin yet. My guess though is that the hammer will fall soon enough.
Your Daily Blend of Entertainment News
Your Daily Blend of Entertainment News
Thank you for signing up to CinemaBlend. You will receive a verification email shortly.
There was a problem. Please refresh the page and try again.