Letterman Returning To TV - With His Writers?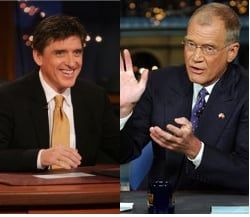 In a move that I didn't even think was possible, David Letterman may start taping new episodes of Late Night with his writers—whether or not the WGA is still on strike. There have been stories within the past few days of the late night hosts returning to air as early as January 2nd, but since the strike will undoubtedly still be underway, that would involve a lot of ad-libbing.
According to a story in the New York Times, while hosts such as Conan O'Brien and Jay Leno may need to brush up on their improv skills, Letterman could be back to business as usual. Letterman is working on a deal with the WGA that would allow writers to work on material for his show as well as The Late Late Show with Craig Ferguson. Letterman is able to do this because his production company, Worldwide Pants, owns both The Late Show and The Late Late Show independently of their network, CBS.
While this deal has not been finalized, the WGA has stated in a letter today that it will begin separate negotiations with various production entities. If the hosts do all return on January 2nd, Letterman and Ferguson will have a distinct advantage over their competitors who usually beat them in the ratings. In addition to having written material, they won't have to deal with the inevitable booking problems that will arise from guests not wanting to cross the picket lines. If this deal happens, we could very well be looking at a new year of new late night leaders.
Your Daily Blend of Entertainment News
Your Daily Blend of Entertainment News
Thank you for signing up to CinemaBlend. You will receive a verification email shortly.
There was a problem. Please refresh the page and try again.