Leverage: The Third Season [DVD Review]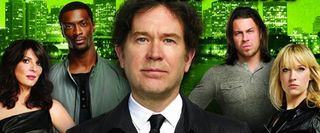 There's a thing called the sweet spot in most television series, and it usually occurs around the third season. So much of the first season is trying to figure out the characters and what works and what doesn't. If you get past that, the second season is trying to fight off the sophomore slump and find the show's rhythm. By the third season, good shows slip into that groove and everything just works. That's what we have here, with 16 nearly perfect episodes of Leverage. This show is so much more than the heists the crew puts over on the corrupt and powerful each week, and yet it would be completely satisfying if that was all that was going on. But we've got five characters, nay people, that we care about holding this together.
We know their personalities, so the writers are comfortable cutting loose and putting them up against new challenges. For example, Eliot (Christian Kane) faces the prospect of using guns for the first time ever on the show, while Parker (Beth Riesgraf) finds herself facing an even more frightening prospect: blossoming romantic feelings for Hardison (Aldis Hodge). Of course, the emotional core of the show continues to be the will-they/won't-they/when-will-they-already dynamic between the crew's mastermind, Nate (Timothy Hutton), and grifter Sophie (Gina Bellman).
Leverage took a tip from all of those USA light action-dramas and added a larger story arc this season in the form of The Italian. The season picks with Nate in prison. The team's first case is to break him out, but doing so puts them under the control of The Italian, a woman who sets them on their most dangerous assignment yet: take down Damien Moreau in six months or Nate goes back to jail and the rest of the team will be killed. So, while they face their regular spate of corrupt politicians and businessmen, they have their most dangerous foe looming all season. And they kind of have to deal with The Italian, as they don't like being controlled.
One of the fun things about a show like Leverage, which tackles new cases every week, is there seems to be no limit to the number of Hollywood stars who are willing to jump on board. This season featured the likes of Kari Wuhrer, Anthony Azizi, Jaime Ray Newman, Mark Sheppard, D.B. Sweeney, Dan Lauria, Nicole Sullivan, Sara Rue, Armin Shimerman, Brent Spiner, Lauren Holly and Kari Matchett, among others. A particular gem was the reveal of Richard Chamberlain as Parker's mentor, a world-class thief in his own right. The episode peels away a few of Parker's many layers, only endearing the character to us even more. Sophie continues her determination to keep Nate at arm's distance, despite an obvious attraction. Luckily, by the time the season wraps, the pair do at least on some level deal with this mutual attraction.
As cool as the heists themselves are -- who doesn't love seeing a slimy douchebag go down? -- they're so much more satisfying with this wonderful cast of characters. We can't help but root for Hardison and Parker to figure out how to be in a relationship. We want Nate and Sophie to grapple with their feelings for one another. And we kind of just want to know even more about Eliot. We know his heart and what kind of a man he is, but is he happy?
The DVD set is nicely balanced with a good array of extras that share with us the experience of making a complex, stunt-filled, character study of a show like Leverage. Every episode comes with audio commentary, which is becoming an expectation on high-quality DVD sets. But the extras don't stop there. Deleted scenes are sprinkled throughout, so you can catch the missing moments on the same disc as their respective episodes. The scenes themselves are mostly throw-away jokes, but it's still fun to get a few more moments of the gang's fun interactions.
The gag reel keeps things fun, featuring five minutes of screw-ups, as does a great little piece called "On Set with Colton & Aboud: The New Writers of Leverage." It's one of several short films. This one has the writers of "The Reunion Job" talking about how well they are respected and appreciated on the set, while being shoved further and further away from the action by the crew.
The remaining featurettes are more serious, but no less interesting to enthusiasts of the television format. "Inside the Leverage Writers' Room" walks us through the process of putting together an episode, from opening ideas through to the finished script on the set. The producers get a chance to explain just what a producer does in "Leverage: What Does a Producer Do?," and quite frankly it sounds exhausting! The last disc features a behind-the-scenes look at two of the key scenes in the season finale. Both are pivotal, exciting, and dangerous, and both featured the actors involved (Aldis Hodge and Christian Kane) performing their own stunts, so it is cool seeing how those moments were put together.
All in all, the extras do a great job of complementing a fantastic season of Leverage. With the Moreau plot tying the season together, it's even a great jumping on point for people who've never tried the show before. And, very unlike USA network shows, this storyline is resolved by the end of the season, making these 16 episodes tie together like a satisfying middle novel of a great heist-book series. It's the emotional connections and the characters that resonate the most and will drive you straight to TNT and the premiere of Season 4 on June 26th. Man, I love a show in its sweet spot.
Length: 681 min.
Rated: Not rated
Distributor: Paramount Home Entertainment
Release Date: 6/07/11
Starring: Timothy Hutton, Gina Bellman, Aldis Hodge, Christian Kane, Beth Riesgraf
Directed by: Dean Devlin, Jonathan Frakes, John Rogers, Peter Winther, Marc Roskin, John Harrison, Arvin Brown, Millicent Shelton
Produced by: Dean Devlin, John Rogers
Written by: John Rogers, Michael Colton, John Aboud, Geoffrey Thorne, Chris Downey, Melissa Glenn, Jessica Rieder, M. Scott Veach, Rebecca Kirsch, Albert Kim, Christine Boylan
Visit the Leverage Official Website
Your Daily Blend of Entertainment News
Your Daily Blend of Entertainment News
Thank you for signing up to CinemaBlend. You will receive a verification email shortly.
There was a problem. Please refresh the page and try again.