Lone Star Preview: Fox Drama Premieres Monday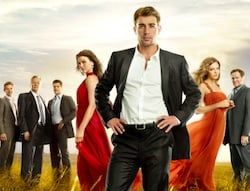 This Monday, Fox will premiere their new drama series Lone Star. We have the full synopsis for the series, as well as a couple of videos to share with you.
Brought to you by the creators of Party of Five, Lone Star follows a man in Texas who's living a double life. The premise actually sounds interesting enough and I'm often intrigued by big series that star relatively unknown actors. While that certainly doesn't apply to Jon Voight, James Wolk, who plays Robert/Bob Allen in the series, doesn't have more than a few credits to his name as of yet.
Below is Fox's description for the series and further down is a featurette that should give you a better idea of what the show is about. There are also some clips from the premiere for you to check out.
Lone Star premieres Monday, September 20th at 9:00-10:00 PM ET/PT on Fox.
CLICK HERE to view the 2010 Fall TV Premiere Schedule.