Lost Mobisodes Finally Arrive To Alleviate Long Break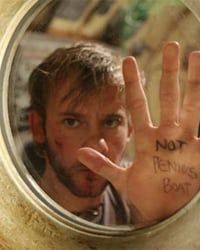 'Lost' creators Damon Lindelof and Carleton Cuse aren't blind to the plight of viewers in the extended absence of the show. Since the first break following season one fans have heard rumblings of some sort of mini-episodes to fill the gap. We got the Lost Experience instead, and to say it was a disappointment would be like saying Anthony Bourdain is a gastric daredevil. The obvious need not be mentioned – well, anymore at least – by us. To fill our hearts with gladness the 'Lost' team has finally gotten all their Dharma ducks in a row to give us the long awaited mobisodes.
The Hollywood Reporter aptly reports that the series of mobisodes will feature the entire cast and are set to premiere on Verizon Wireless. Presumably they'll be available a short time later for the rest of mankind on ABC.com. The dynamic duo has been in "radio silence" since season 3's climactic rattlesnake ending, but the silence will briefly break at San Diego's Comic-Con. Damon and Carleton plan to address the finale and what exactly they were going for.
As for the mobisodes themselves, Cuse said they would run nearly 90 seconds each and provide details that couldn't – or wouldn't – be shown on the main series. "It needs to be interesting enough and well produced enough that people feel they're getting enough bang for their buck, even if it's free, the bang for their time," Lindelof said. That "bang" isn't exactly a mini version of the show, according to the creators. They're more of a taste o' 'Lost' to keep your palette primed for the return in February 08. With the full cast onboard for the mobisodes they should do the job. Look for them to premiere at some point in the future, I'm betting at Comic-Con we'll get a glimpse if not the first one.
Your Daily Blend of Entertainment News
Staff Writer at CinemaBlend.