Martha Stewart Shifting to Hallmark Channel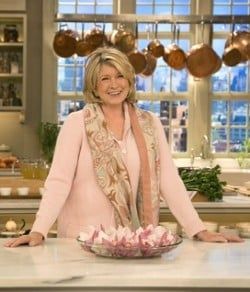 Daytime television is changing so rapidly. At this rate Wendy Williams will be one of the top talk show hosts before too long. Now it looks like Martha Stewart is picking up all her cookbooks and other toys and taking them to the Hallmark channel, taking over mornings there.
Starting in the fall of 2010, The Martha Stewart Show will air exclusively on the Hallmark Channel at 10 PM ET. That will be followed by 90 minutes of to-be-determined programming from her Martha Stewart Living Omnimedia company, according to Zap2It. The idea is to utilize the time to spotlight other personalities from within the MSLO empire. Perhaps she has a Dr. Phil or a Dr. Oz of her own to trot out.
This has to be a huge blow to local stations that pick up the syndication rights on these shows. Oprah Winfrey and Martha Stewart are easily two of the top draws, and the biggest names in daytime television. So who's going to step up and dominate broadcast daytime television?
Ellen DeGeneres is in good shape, as she has more of a general focus show, as opposed to the various doctor shows. Plus, that American Idol exposure probably isn't going to hurt her any either. Maybe Rosie O'Donnell will come back, though I don't see her being as warmly embraced as she was during her "Queen of Nice" reign. Who do you see stepping up?
Your Daily Blend of Entertainment News
Your Daily Blend of Entertainment News
Thank you for signing up to CinemaBlend. You will receive a verification email shortly.
There was a problem. Please refresh the page and try again.