The Michael J. Fox Show Review: Worth A Watch, Even With The Single-Camera Format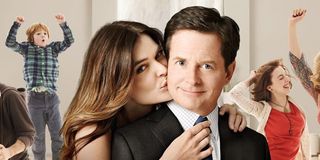 Just a few days ago, the cast and crew of Modern Family won its fourth consecutive Emmy for "Outstanding Comedy Series." The family comedy has proved to be a success story that is enviable, and plenty of the other networks are putting family based comedies together this season hoping to compete. One of these is NBC's highly touted The Michael J. Fox Show, a comedy with a lighthearted tone that is just beginning to find its comedic niche through its first few episodes.
If you've caught NBC's lengthy trailer for The Michael J. Fox Show, you should already have a good idea regarding the show's premise. Mike, a news anchor, has spent some time at home after his Parkinson's disease got the best of him while he was on the air one day. He's been trying to play Suzy Homemaker since, but he's terrible at it--frightfully, painfully terrible. The type of terrible where he can't read his wife's directions for a plumber and then accidentally dials 911 instead of 917, forcing the police to show up. So, when he decides to go back to work, his wife, Anne (Betsy Brandt), and his three children, Ian (Coner Romero), Eve (Juliette Goglia), and Graham (Jack Gore) are relieved.
What the initial trailer doesn't tell us about the series is that Fox and Brandt have great chemistry as a New York couple living hectic modern lives. It doesn't give us much time with Fox at the news station, which is where the series truly excels via characters like Mike's confidant boss, Harris (Wendell Pierce) and his arch-nemesis Susan (Anne Heche). And it doesn't put a spotlight on Fox's kid, Ian, who is kind of a side character in the first episode but who provides a likeable but bumbling cockiness to the plot while living at home. Unbeknownst to his parents, Ian has failed out of college and is trying to figure out what he wants to do with his life.
Despite the interesting side characters, Mike is at the heart of the series, and rightly so. He's a family man and rock solid journalist who is trying to adjust to a life with Parkinson's, but he's also a kind-of goofy man who gets teased a lot by his family. While the disease does give the writers room for a few jokes at Mike's expense—notably, at one point he's arduously trying to dole out eggs when his wife exasperatingly states it is "not time for a personal victory"—the The Michael J. Fox Show is more about watching Mike as he maneuvers his way through his home life and work life, trying to balance the two. It might be a bit of a challenge for the writers to split time evenly between the two realities, but if Last Man Standing can do it, I get the feeling NBC's new comedy will figure out exactly what it wants to be and where it wants to go across its first season.
The big eyesore in The Michael J. Fox Show is the single-camera comedy element. It's about a family! That's being taped! All the time! That sort of camera work has been on trend over the past decade, but it's mostly gratuitous here, and it comes across as if NBC trying to use the direct camera address to mask the fact that the show is kind of a flashback to the network's nineties heyday. There a few prime exceptions to this, of course, one of them being a set of great cut-to's in which all of the members of Mike's family relate a story the news anchor likes to tell about a woman having a baby in a tree and how things might seem bad, but they could always be worse.
The good news is this show isn't that poor mother stuck in the tree. The Michael J. Fox Show doesn't seem even half-bad and as NBC continues to churn out new episodes, I only see the series getting better. You can tune in and decide for yourself whether NBC's new Thursday night sitcom works when The Michael J. Fox Show premieres this Thursday at 9 p.m. ET.
Your Daily Blend of Entertainment News
Reality TV fan with a pinch of Disney fairy dust thrown in. Theme park junkie. If you've created a rom-com I've probably watched it.