Modern Family Casts Gloria's Mother And Sister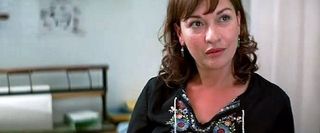 Modern Family's Gloria talks about Colombia all the time, but we don't often hear about her family. What's her mother like? It probably wouldn't be a stretch to guess that she's beautiful. And sure enough, they found a gorgeous (and familiar) face to play the role. It also sounds like we'll be meeting Gloria's sister this season as well.
With Gloria pregnant, it makes sense that some of her extended family might be around for a visit. TVLine reports that Elizabeth Peña has been cast to play Gloria's mother in the 12th episode of the current (fourth) season. And Stephanie Beatriz has been cast to play Gloria's sister.
While Beatriz is relatively new to the acting scene with an appearance in The Closer among her credits, Peña's face should be familiar as she's appeared in a number of films over the years, including La Bamba, *batteries not included and Transamerica. She also provided the voice of Mirage in The Incredibles. More recently, she's been busy with TV work, having appeared in Charlie's Angels, Off the Map, Outlaw Prime Suspect and Common Law, all of which coincidentally happened to get cancelled after one season (or less).
Sofia Vergara's Gloria is quite a character, so it should be interesting to see what her mother's like and how she fits into the story. What does she think of Gloria being married to a much older man? And what kind of relationship does she have with Gloria? We'll find out when the episode airs later this season.