NBC Announces Its Summer Schedule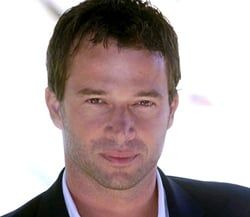 NBC has revealed its summer lineup, and the shows aren't all mediocre reality programs like America's Got Talent. This summer will see the previously mentioned Great American Road Trip as well as scripted shows like Philanthropist, Merlin, The Meteor and The Listener.
Philanthropist was supposed to come out last fall, so it could suffer the same fate as movies that are delayed. Starring James Purefoy and Neve Campbell the show follows a billionaire who works to help people. Merlin is a BBC production that follows the story of the famed wizard of Camelot in a 13-part series.
Of course there will be the typical reality programs and miniseries. Including The Meteor, a miniseries about a huge frickin' rock coming towards earth. Oh boy, are we back to Armageddon rip-offs? Because I saw Asteroid, and it wasn't good. While NBC has had some issues as of late with their programming the network is hoping to utilize the summer, when most competitors air reruns and reality, to give little show like Merlin a real shot at finding an audience.
Below is the summer schedule from NBC:
Monday, June 1
I'm A Celebrity…Get Me Out Of Here! - premiere 8:00 pm
Medium - season finale 10:00 pm
Tuesday, June 2
Law & Order: Special Victims Unit - season finale 10:00 pm
Wednesday, June 3
Law & Order - season finale 10:00 pm
Thursday, June 4
THE LISTENER - premiere 10:00 pm
Sunday, June 7 and June 14
METEOR -- miniseries 9:00 pm
Monday, June 8
Law & Order: Criminal Intent - season premiere 9:00 pm
Dateline NBC 10:00 pm
Sunday, June 21
MERLIN premiere 8:00 pm
Tuesday, June 23 and June 24
America's Got Talent 9:00 pm
Wednesday, June 24
THE PHILANTHROPIST - premieres 10:00 pm
Wednesday, July 1
GREAT AMERICAN ROAD TRIP - premieres 8:00 pm
Saturday, July 4
MACY'S 4TH OF JULY FIREWORKS SPECTACULAR 9:00 pm
Sunday, July 19 and July 26
THE STORM - miniseries 9:00 pm
Staff Writer at CinemaBlend.
Your Daily Blend of Entertainment News
Thank you for signing up to CinemaBlend. You will receive a verification email shortly.
There was a problem. Please refresh the page and try again.