NBC Casts Amy Smart And Karolina Wydra In Bad Girls Pilot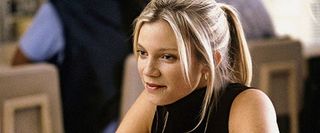 NBC has cast two of its Bad Girls for the pilot of a project centered on a women's prison. Yes, I did say that's on NBC, so it's not going to be that kind of girls-behind-bars show, sorry guys. But this women's prison will apparently have its unfair share of Hollywood hotties. Cast today are Amy Smart and Karolina Wydra to play inmates.
Deadline reports that the two have joined the drama pilot, which is based on a successful British format. The project centers on the inmates of a women's prison and their warden, along with her new protégé. They'll face the daily lives of federal inmates while dealing with the difficulties of balancing lives on the inside with the people they left on the outside.
Amy Smart has been cast as an Orange County blonde who finds herself locked up for credit card fraud – that is she maxes out a friend's stolen plastic. Wydra's inmate character is described as "scheming" and "sultry". Neither of them sounds like the typical federal prisoner, but it does seem like that's precisely the point. Bad Girls sounds like it's anything but a realistic look into a prison life, but then maybe hot blondes who get in trouble with the law get to go to a very special prison for Barbie dolls.
Smart's current gig is a recurring role on Shameless on Showtime. Wydra has been recurring over on Fox's House, which will is ending its run this season. Hopefully she's found her new gig.
Your Daily Blend of Entertainment News
Thank you for signing up to CinemaBlend. You will receive a verification email shortly.
There was a problem. Please refresh the page and try again.