NBC To Continue Pirate Trend With Republic Of Pirates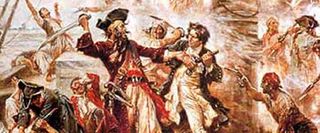 NBC has just confirmed, pirates are, in fact, in with the television circuit. NBC's not always first to a good idea but this time, they have managed to cement a trend, with Republic of Pirates, a drama series set during the golden age of pirates, between 1715 and 1725. News that NBC bought Republic of Pirates comes just weeks after FX set up its own pirate series, Port Royal, and Tony and Ridley Scott sold a pitch to Fox for a limited summer series, aptly called Pyrates.
If fans were worried plots might run too similar, Republic of Pirates has no intention of copying whatever flavorful plotlines the other two networks have in mind. Ted Gold, the president of Parkes/MacDonald Prods., the company that sold the project to NBC, has stated Republic of Pirates will focus on real "pirates" rather than the " privateers" focused on in Pyrates and Port Royal. If you need to brush up on your pirate knowledge, privateers were private ship crews hired by governments to attack with purpose and pirates had no goals or aims except their own selfish plunder. So, if you want to see the real uncouth shits, head to NBC in the fall.
Or, you can just look into the book the project is based on. Republic of Pirates, by Colin Woodard focuses on three vicious pirates: Samuel Bellamy, Edward Teach, and Charles Vane. Though timing makes it seem as if Parkes/MacDonald Prods. has grasped at straws and simply found a project to compete with other networks, assuming this would not be accurate. According to Deadline, the project has been worked on since November, and was only sold after a highly detailed pitch went well. So, maybe Republic of Pirates will turn out to be worthwhile. Although, even with Teach and other big names to back the program up, I think I'll still be tuning in to watch the more romantically criminal sounding Port Royal.
Your Daily Blend of Entertainment News
Thank you for signing up to CinemaBlend. You will receive a verification email shortly.
There was a problem. Please refresh the page and try again.