NBC Fires Saturday Night Live Staffers, Cites Writers Strike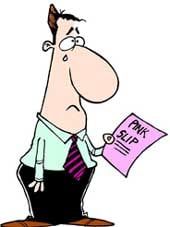 For some of the staff members of Saturday Night Live, this will be the worst holiday season ever. According to industry sources, at least 50 workers on the legendary comedy/variety series were given pink slips Friday, with only a handful of employees of the show kept on.
According to Variety, NBC is not commenting on the firings, but the SNL staff was said to be "devastated." One of the unlucky 50 told Variety that the laid-off employees were surprised by the NBC/Universal decision, because the company had announced that the staff of The Tonight Show and Late Night With Conan O'Brien were told that they could be allowed to collect paychecks for a few more weeks (at last some people at the Peacock will have a decent Christmas).
Saturday Night Live has not produced a new episode since November 3rd, and people are watching to see if any cast members will be facing the ax as well. So far, the cast has been put on "unpaid hiatus," especially since most of the SNL on-air cast are also members of the writers guild (some of them are now logging daily appearances on the picket line outside 30 Rockefeller Center).
This looks like NBC's first attempt to play hardball with the writers. The network has now shifted the battlefield to make the writers seem like they're the bad guys, and they're the ones causing people to lose their jobs. But with the two sides planning on going back to the bargaining table, I'm hopeful that all those who got the ax this week will get their gigs back pretty quick if and when these talks turn the corner.
In the meantime, you'll probably be seeing more benefit shows for the production staffs of various TV shows like the SNL show held at the Upright Citizens Brigade Theater this past weekend, and the live 30 Rock that hits the same stage tomorrow night. Both of those shows sold out in minutes, with all the proceeds going to those who lost their jobs recently.
So while the offices outside of Studio 8H are cleaned out this week, the network might think they're won a battle. But is bad PR moves like that which will make them lose more support in the overall war. Because nothing can win more sympathy than the thought of an unemployed 23-year old production assistant with no job on Thanksgiving, while the executives head to the Rainbow Room at the top of 30 Rock for another slice of gourmet turkey.
Your Daily Blend of Entertainment News
Thank you for signing up to CinemaBlend. You will receive a verification email shortly.
There was a problem. Please refresh the page and try again.