NBC Greenlights New Singing Competition With A Twist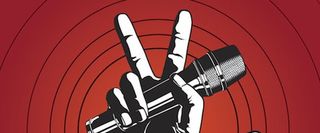 There's a glut of singing programs currently available to viewers on network television, starting with veteran program American Idol and running through The X Factor, The Voice, The Sing Off, the more recent Duets, and even America's Got Talent - if you count the fact most often that production features singers as the ultimate winners. Apparently, there is still room in the schedule for yet another singing production, with the newest idea set to join The Voice over at NBC.
Called The Winner Is, the brand new singing competition will pit people and groups of all ages and occupations against one another to compete to the best of their ability. The all-ages mentality of the upcoming show sounds a little like The X Factor, until one gets to the twist. Contestants will be set up against one another into singing duels. After performing, the contestants will have to decide on their own whether to bow out of the competition with a small cash prize or stick it out, hoping they did better than their dueling partner. Judging will be done by a special in-studio panel led by one celebrity judge.
While the rules seem a little complicated, especially during the first season of The Winner Is, the petty cash option-out certainly adds an interesting twist to what we have seen from singing competitions in the past. Unlike The Voice, which loses the swiveling chair gimmick halfway through the season, The Winner Is will continue the cash-out walk-away option into the finale, where the final two contestants will be able to walk away with $100,000 or gamble on whether or not they actually won the final prize.
The project will be produced by Talpa Media, USA, Inc. and will feature John de Mol on board as executive producer. With celebrity judges expected to join the show in the coming months and a $1 million prize already decided as the ultimate award for winning, it looks like NBC's new show is well underway, whether or not we are ready for another singing competition.
Your Daily Blend of Entertainment News
Thank you for signing up to CinemaBlend. You will receive a verification email shortly.
There was a problem. Please refresh the page and try again.