NBC's Hannibal Casts Lara Jean Chorostecki In The Philip Seymour Hoffman/Stephen Lang Role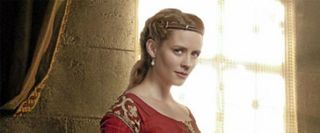 Thomas Harris' Dr. Hannibal Lecter novels may contain one of the most interesting female characters on the page (or screen) of the last few decades. Beyond Clarice Starling, however, there aren't that many other ladies in the series, especially when you're looking to (pre-) Red Dragon for inspiration. Or, more appropriately, adaptation, which is exactly what Bryan Fuller and Gaumont International TV are currently doing with Hannibal for NBC.
It was Fuller alum Caroline Dhavernas' casting as Dr Alana "Al" Bloom that first suggested the showrunner was interested in swapping genders for his contemporary take on the blossoming relationship between (and cases worked by) FBI Profiler Will Graham and Dr. Lecter. And according to TVLine, another character is also undergoing a male-to-female transition. Sleazy tabloid journalist (redundant followed by oxymoron?) Freddy, sorry, Freddie Lounds will be played by Lara Jean Chorostecki.
Chorostecki, known for her work on Camelot and seen in Brandon Cronenberg's Anitviral, is taking on the role previously played on the big screen by Stephen Lang in Michael Mann's Manhunter and Philip Seymour Hoffman in Brett Ratner's Red Dragon. According to the article, while the female version of Lounds will still take big risks (and ethical leaps), she's "more sophisticated" than the previous incarnations. This change is supposed to make her a more formidable antagonist for Graham, Lecter, and Crawford, instead of simply a schlub they have to deal with…or just wait for the Toothfairy to do the dirty work.
Speaking of Lounds' relationship with the "Red Dragon" killer, Fuller took to twitter to confirm the addition (or, in this case, build anticipation) by simply writing "CAST" with a link to Lounds' warm goodbye. Hannibal won't debut until midseason on NBC. That's a long wait. Created by Fuller, it stars Hugh Dancy (Graham), Mads Mikkelson (Lecter), Laurence Fishburne (FBI Senior Agent Jack Crawdord), Dhavernas, and Chorostecki.
Your Daily Blend of Entertainment News
Your Daily Blend of Entertainment News
Thank you for signing up to CinemaBlend. You will receive a verification email shortly.
There was a problem. Please refresh the page and try again.