Nathan Fillion's Castle Needs Help From Breaking Bad's Dean Norris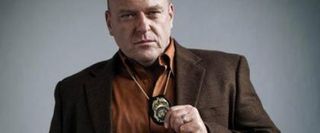 You may know him as DEA Agent and Brother-in-Law, Hank Schrader on AMC's Breaking Bad. If you don't know Dean Norris from one of the best series on television than you'll probably recognize him as 'that guy' from many projects, whether as a State Trooper in Little Miss Sunshine, a SWAT Team Leader in Terminator 2 or a sweet but overprotective father in Disney's PROM (yep). Now he's going to be 'that guy' again in an upcoming episode of Castle.
TVLine shared the casting news, announcing that the Breaking Bad regular, who has been on just about every TV show over the last twenty years (seriously, IMDB him), signed on for a one episode stint as a hostage negotiator on Castle. Hm. I wonder who could possibly have found himself in the wrong place at the wrong time and need the assistance of a hostage negotiator. For those who don't know, in the light-hearted cop show Nathan Fillion plays the titular crime-novelist who is paired with an actual detective, played by the lovely Stana Katic, in order to alleviate writer's block. Of course, this leads our leading man into many differing dangerous situations that he then needs assistance to escape from unharmed. Hence, the need of the Dean.
Only this time, it seems not only is our man Castle in need of some help, but so his mother (played by Susan Sullivan) as they find themselves caught in the middle of a bank robbery. There's also mention of a group of "colorfully named robbers," so it's nice to see that a show about writer's block is cribbing straight from Quentin Tarantino's Reservoir Dogs. Only fitting really, since QT is also notorious for taking homage to an extreme. Either way, it will make for good fodder for Nathan Fillion on the inside, while his partner (in more ways than one) Beckett has to stand on the sidelines and do nothing but worry. Don't worry Beckett, he's in Dean Norris' hands.
Castle airs every Monday on ABC at 10 p.m.
Oh, and seriously, if you aren't watching Breaking Bad something may be wrong with you. It's on AMC, Sundays at 10 p.m.
Your Daily Blend of Entertainment News