Necessary Roughness Review: A Rough Start For USA's New Drama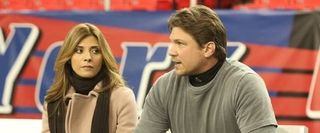 Callie Thorne has played roles in some of my favorite TV series, including Rescue Me, Californication and one of my recently added favorites The Wire. As far as I'm concerned, she's long overdue to play the lead role in a series and USA is as good a network as any to play host to such a show. Unfortunately, Necessary Roughness doesn't get off to the best start, despite the excellent cast.
Thorne plays Dr. Dani Santino, a practicing psychotherapist from Anytown, Long Island. Shortly after splitting up with her cheating husband, she finds herself having a fling with a professional football trainer named Matthew, played by Marc Blucas (Buffy the Vampire Slayer). This leads to a job working with an egotistical pro-football player on a downward spiral, named Terrence "T.K." King (Mehcad Brooks). While trying to juggle a divorce that's being contested by her husband, her kids' reactions to the split, and the complications brought on by her new client, Dani attempts to deal with the new mess that is her life.
I think the biggest issue I had with the premiere episode was how much they managed to squeeze into the pilot and how little we really get out of it. The premiere begins with Dani almost immediately discovering her husband is cheating on her. She decides on the spot that she wants a divorce and her new life begins (jumping a few weeks ahead). As she was already a practicing psychotherapist before the split with her husband, the shift to working with a professional athlete doesn't feel all that drastic. Then again, working with a man whose rough upbringing has left him with a host of personal problems that are now affecting his career is a bit different than hypnotizing a woman into avoiding carbs. So there's a bit of added challenge for her professionally.
Callie Thorne's past performances have demonstrated her ability to carry a dramatic scene, especially when portraying a woman on the edge. Unfortunately, there isn't much of a spark in Dani just yet. Her frustration comes through, along with toughness and a bit of attitude. There's also some charm, but not much by comparison to some of USA's other big "characters." Marc Blucas brings his brand sweet, boy-next-door charm and easy smile to Matthew, but we don't really get to know him, other than that he's a possible love interest to Dani and a trainer. Finally, Mehcad Brooks delivers the best performance of the episode in a dramatic scene that is essentially wasted due to awkward pacing in the episode. The show moves almost as though it's a comedy or at the very least, a dramedy but there aren't any jokes. The result is a pacing that flattens the dramatic scenes and all but destroys the momentum of the episode.
USA's series typically start off with a bang as the lead character or characters are put to the test in some way, giving us a chance to see what they're made of. The recent premiere of Suits is a fine example of that, with the lead character getting a second chance at a better life. Necessary Roughness attempts to offer a similar start-up. The formula is there but the pacing is off and without any built momentum, the payoff doesn't amount to much, even with the sports related anticipation offered.
With the above said, I won't say that Necessary Roughness is bad, or even hard to watch. It's ok. It just wasn't great, nor did it come anywhere near the potential offered by its cast. Thorne, Blucas and Brooks are three reasons I was looking forward to Necessary Roughness and they're the reasons why I'll tune in for more, in the hopes that the show will find its footing over time.
Necessary Roughness premieres Wednesday, June 29th at 10/9c on USA.
Assistant Managing Editor
Kelly joined CinemaBlend as a freelance TV news writer in 2006 and went on to serve as the site's TV Editor before moving over to other roles on the site. At present, she's an Assistant Managing Editor who spends much of her time brainstorming and editing feature content on the site.
Your Daily Blend of Entertainment News
Thank you for signing up to CinemaBlend. You will receive a verification email shortly.
There was a problem. Please refresh the page and try again.