Neil Patrick Harris Not Sure If He'll Stay On How I Met Your Mother After Next Season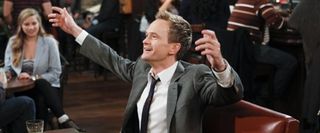 CBS' How I Met Your Mother is still going strong after seven years, proving that clever writing will take you far, a great supporting cast can overcome a bland leading man, and that Ted Mosby's future children have astonishing, perhaps even superhuman, bladder control. However, while the seventh season still hasn't revealed the identity of the mysterious mother, the show is creeping closer to one other milestone: the end of the cast's contracts. The actors are all signed on through the end of the eighth season. Will the cast sign on for more or will the show wind to a close? Neil Patrick Harris isn't sure.
The actor, who plays be-suited ladies' man Barney Stinson on the series, talked to Access Hollywood about the show's future, but didn't provide any concrete answers. "We were signed up for eight years, so this is our seventh," said Harris. "We'll do one more, [which] is eight, and then we'll see." For his part, Harris says he loves his job and that everyone is still getting along, so apparently if the show does end, infighting won't be at fault.
Harris dismissed suggestions that the cast might negotiate for new contracts as a group, rather than individually, like the cast of Friends did. "I don't think so… we all kind of do our things. I would assume that people like Jason Segel make like a gazillion dollars because he's a big movie star."
Joking aside, the cast's increasing fame and busy schedules will likely become an issue for the show's future. While many of the cast are still mainly known for their roles on HIMYM, both Segel and Harris have seen their popularity explode over the past several years. Even if the show's producers want to continue the series on beyond the eighth season, bigger and better things may lure their cast elsewhere.
Your Daily Blend of Entertainment News