The Newsroom Season 2 Will Premiere On HBO In July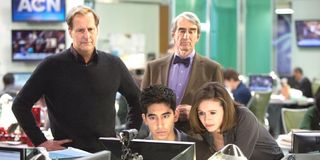 The Newsroom's second season has earned an official premiere date as part of HBO's summer slate. The Aaron Sorkin drama, which was renewed only a week into its freshman run last summer, will return on July 14th.
The Newsroom stars Jeff Daniels as the anchor of television station Atlantis Cable News. In the first season, the news veteran found himself dealing with a new executive producer, along with a fresh crop of young reporters who also bring change. The upcoming season will bring in some new faces—most notably, Oscar winner Marcia Gay Harden (Pollock), who is taking over a role Rosemarie DeWitt originally signed on for. She'll be playing a lawyer handling a wrongful termination suit, which gives us a small tidbit of information as to what will be going on in the newsroom in Season 2. Also signed on for the new season is Grace Gummer (daughter of Meryl Streep), who will play an embedded reporter on the political circuit.
The Newsroom also stars Emily Mortimer (Shutter Island), Olivia Munn (Magic Mike), and Sam Waterston (Law & Order) among a stellar ensemble cast. Deadline is noting the series ended last season on a ratings high with 2.3 million viewers, and picked up two Golden Globe nominations - for best drama and for Jeff Daniels as best actor - which should help boost interest for Season 2.
With the new season premiere still a few months off, there's time to get caught up either on HBO Go or with the Season 1 Blu-ray and DVD, which is set for a June release.
Your Daily Blend of Entertainment News
Thank you for signing up to CinemaBlend. You will receive a verification email shortly.
There was a problem. Please refresh the page and try again.