The Office Will End After Next Season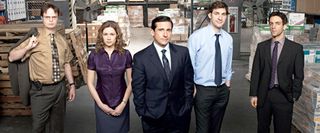 Even longtime fans of The Office have been able to admit that the show seems to be running out of juice lately, with Steve Carell now long gone, Mindy Kaling following to her own show The Mindy Project, B.J. Novak scaling down his commitment as a writer and actor, and Dwight, a.k.a Rainn Wilson, preparing for his own spinoff. NBC wasn't saying any of this shifting was a sign of a show nearing the end of its run, but now the show's co-creator Greg Daniels has confirmed it: The Office will end after this season.
The news comes from a conference call this afternoon with TV reporters, as tweeted by New York Magazine's Joe Adalian. Over at TV line, Michael Ausiello shared some of the promises Daniels made from what we can expect in the new season:
Though you can argue that the show should have ended when Steve Carell departed, the writing is now quite clearly on the wall that it's time to end-- Season 8 was roundly criticized, with the kindest articles arguing that it "wasn't a disaster," and ratings down significantly from previous seasons. Of course, given how much this show started off as an underdog, perceived as a cheap knockoff of the British show before it even aired, the fact that it's even made it this far could be considered a miracle. And with the Schrute Farms spinoff coming, The Office won't really be gone-- though there's still plenty of time to argue whether that one's a good idea at all.
With The Office coming back for its new season September 20, we may start seeing signs of the end as soon as next month. We'll have more information for you as we get it; in the meantime, let us know in the comments what the end of The Office would mean for you, whether you think it's high time or if you want them to hang on a little longer.
Staff Writer at CinemaBlend
Your Daily Blend of Entertainment News
Thank you for signing up to CinemaBlend. You will receive a verification email shortly.
There was a problem. Please refresh the page and try again.