Once Upon A Time Adds Annabeth Gish For Season 2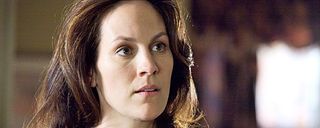 The latest addition to the ever-growing cast of fairy tale types around Storybrooke is Annabeth Gish. She's signed on for a guest role that will have her howling at the moon in Once Upon a Time's second season.
Gish, who has starred in plenty of television dramas before including The X-Files and more recently Pretty Little Liars, is no stranger to the unusual, but Storybrooke does seem the take the cake when it comes to skeletons in the closet. Or rather, fairy tale characters in the closet. Gish will be showing up in the seventh episode of the upcoming season, and she will be playing the leader of a group of secret wolves. Her character, Anita, according to EW is beautiful and charismatic and has the same secret as Storybrooke's resident Red. As do her followers – they're all wolves.
Once Upon a Time has been adding to the cast over the summer, including Sarah Bolger as Sleeping Beauty, Colin O'Donoghue as Captain Hook, and Jamie Chung as Mulan. They've also cast Sinqua Walls to play Lancelot, which adds another dimension the characters of Storybrooke. They've already gone beyond what I normally think of as standard fairy tale characters, and the ever expanding cast seems to hint that they'll move through all sorts of mythology to flesh out the residents and their backstories. With that kind of latitude, there's no telling who could show up next in Storybrooke or where the plot might head.
The wait is almost over to find out what's next, thankfully. Once Upon a Time premieres Sunday September 30th. We won't see Annabeth Gish, however, until well into the season.
Your Daily Blend of Entertainment News