Once Upon A Time's Meghan Ory Will Get To Play Ruby More Often In Season 2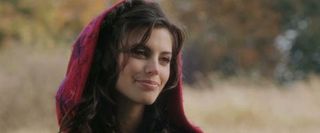 Meghan Ory's Ruby is one of the more complicated characters occupying Storybrooke on ABC's Once Upon A Time. She's constantly looking sweet and sexy on the outside, but mentally she's more of a pawn, continually being pushed by those around her, although she can be surprisingly forceful on occasion. With all of those personality traits rolling around inside her as well as a big secret to hide, Ruby is one of the most compelling characters on the drama. Apparently, ABC believes so, too, and is going out of its way to keep her.
Despite the success of Once Upon A Time at the network, Deadline is reporting Ory was shopping around when pilot season came about. This was likely due to the fact she was a minor character in Season 1, popping up often but only getting one meaty storyline to fully invest audiences into her character. While Ory began looking for other gigs, the show looked into what else could be done with the Ruby/ Red Riding Hood character. A couple of weeks ago, the network renewed Once Upon A Time for a second season, and now they've given Ory a bigger role on the show.
Ory has been upped to a regular character on the series, which means we will get to see much more of her in upcoming episodes. I've clearly already stated I am a huge fan, and I think adding yet another diverse and interesting female personality to an already female-dominated cast will just encourage me to watch the ridiculously over-dramatic and magical drama much more often. Bring on the wolves and witches, ABC.
Your Daily Blend of Entertainment News
Thank you for signing up to CinemaBlend. You will receive a verification email shortly.
There was a problem. Please refresh the page and try again.