One Of CBS' New Dramas Sounds A Lot Like Girl With The Dragon Tattoo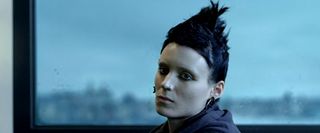 So the other day CBS gave the green light to three new dramas, all focusing on law enforcement in one way or another. (Leslie reported about them here.) No surprise there, since CBS has long since settled into a smooth procedural groove with its programming. There was one about a stay-at-home mom who becomes a private investigator, another that's a period piece about a real-life rodeo cowboy who became a Las Vegas sheriff...and then there was one pilot that suggests somebody at CBS really, really enjoyed The Girl with the Dragon Tattoo. (As pictured above, Lisbeth Salander is not amused.)
TV Line brings details on the pickups. That last pilot in question is saddled with the unfortunate title of Quean, and was created by former L Word honcho Ilene Chaiken and mega-producer Joel Silver. The series follows the adventures of an Oakland detective who teams up with an edgy female punk hacker to solve crimes. Presumably she has some sort of lizard tattoo on her somewhere. Maybe a gecko.
For those of you who still haven't seen/read Girl with a Dragon Tattoo, here's the skinny: both the recent David Fincher film and the original Swedish Girl with a Dragon Tattoo were based on the book of the same name by deceased author Stieg Larsson. The book is the first of his "Millennium series" focusing on the crime-solving antics of Mikael Blomkvist, a disgraced journalist, and Lisbeth Salander, a pierced, tattooed master hacker who freelances for a security company.
Now, I'm sure CBS' new series isn't an outright rip-off, but the timing of it probably isn't a coincidence, either. For Hollywood's long history of parallel development, you need look no further than their output of volcano and asteroid movies. At any rate, with Nicholas Pileggi's talents aboard, hopefully the show will quickly form its own identity beyond just being an easy target for GwtDT comparisons. Assuming it even makes it to air, that is...
Your Daily Blend of Entertainment News
Your Daily Blend of Entertainment News
Thank you for signing up to CinemaBlend. You will receive a verification email shortly.
There was a problem. Please refresh the page and try again.