Oswalt Out, Thune In For NBC Broderick Pilot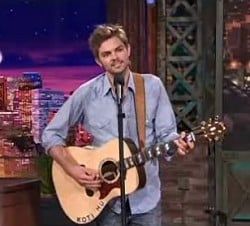 While he'll bring a completely different vibe to the project, I have to applaud the casting of comedian Nick Thune to replace Patton Oswalt in NBC's comedy pilot Beach Lane. Thune does a spoken word comedy that's a little odd but a lot funny, and he deserves a potential big break like this.
I've not fanatically followed Thune's work, but I've heard him on The Bob & Tom Show, and seen some of his stand-up on Comedy Central. Thune is one of those young comedians who's been on the verge of "blowing up" for a couple of years now. I always wonder, though, if these comedians will get a chance to have any influence on the material they'll be working on when they transition to television.
After all, the reason Thune is succeeding is because of his own written material, so he knows a thing or two about comedy. Will the writers of Beach Lane allow him to tweak the character to better suit his style? Thune will be playing an irresponsible millionaire heir, according to Deadline Hollywood, which fits perfectly with his laid back nonchalant style.
The series also stars Matthew Broderick as the celebrity author Thune hires to run his small-town newspaper. Which means a workplace comedy. If we're lucky they can flesh out the cast with some great side characters and NBC might actually have another workplace hit on their hands.
Your Daily Blend of Entertainment News
Your Daily Blend of Entertainment News
Thank you for signing up to CinemaBlend. You will receive a verification email shortly.
There was a problem. Please refresh the page and try again.