Ozzy Osbourne's New Single Debuts On CSI: NY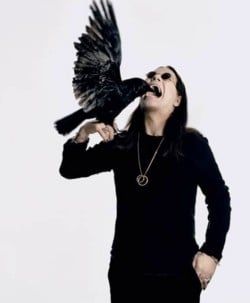 From biting off the heads of bats to becoming a doddering reality show dad, Ozzy Osbourne has certainly had an interesting career. Now he'll be premiering his new single, "Let Me Hear You Scream," on an upcoming episode of CSI: NY. Heavy metal isn't what it used to be.
"We were looking for something high energy and irreverent to sell the madness of a prison riot," said executive producer and episode writer Peter M. Lenkov. Osbourne was thrilled with their choice, as he could relate to the events of the episode, where Dr. Hawkes is trapped in prison with guest star Harold Perrineau (Lost) during a prison riot. Ozbourne spent some time behind bars in his teen years.
The move is just a continuing push by the music industry to find new and innovative ways to get their artists' wares in front of potential buyers. I wonder if they did some studies that revealed that Ozzy Osbourne fans love Gary Sinise and CSI: NY. I guess David Caruso is a bit over-the-top for their sensibilities.
Your Daily Blend of Entertainment News
Your Daily Blend of Entertainment News
Thank you for signing up to CinemaBlend. You will receive a verification email shortly.
There was a problem. Please refresh the page and try again.