Paris Hilton Makes A Fevered Appearance On Earl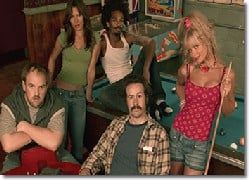 Since the writers strike ended, there have been rumors coming from the My Name is Earl people about a real-life tabloid star guesting on an episode this season. Names like Lindsay Lohan and Paris Hilton were thrown around, but it was unclear if they'd be able to book one of the TMZ darlings. Now, according to E!Online, instead of Lohan, who let's face it, could use the work, Earl is getting Paris.
Producer Greg Garcia says of the casting move, "When we wrote the role of Paris Hilton in the script, we weren't exactly sure who to go with for the role, but after an exhausting search we finally settled on a relatively unknown actress by the name of Paris Hilton." Sigh. Hilton appears on the hour-long April 3rd episode titled, "I Won't Die With a Little Help from My Friends." While we know she comes to Earl in a fevered dream, the extent of her role within that dream remains unclear. The only thing that is certain is she remains a constant part of our collective painful reality.
While Hilton is probably best known to television audiences for the five seasons of her reality show, The Simple Life, Hilton has also had awkward turns on the first seasons of both The O.C. and Veronica Mars, as well as stints on American Dreams and Las Vegas. Her most recent foray onto the big screen in The Hottie and the Nottie was, shall we say, less than successful. While Paris probably won't be able to completely ruin My Name is Earl in just one episode, it's unfortunate that she'll be around for a full hour of such a truncated season. I guess the best thing to do is just close your eyes and hope it will all be over soon.
Your Daily Blend of Entertainment News
Your Daily Blend of Entertainment News
Thank you for signing up to CinemaBlend. You will receive a verification email shortly.
There was a problem. Please refresh the page and try again.