Price Is Right Search For First Male Model Begins Next Month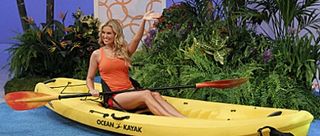 The Price is Right is looking to change up the scenery on stage – and I am not talking about new sets or games. No, instead the venerable game show is looking to add some testosterone to the lineup of models showing off the goods (I mean the prizes of course) on the stage for hopeful bidders. Somehow, it has taken the show until 2012 to add male models to the mix.
The Price is Right is launching the search for the first man to join the legion of lovely ladies who have posed next to microwave ovens, his and hers watches, and yes, that ever-exciting new car over the years. Sadly, it appears this won't be a permanent change. According to THR the winner of a male model search to join the show will get to walk the stage for a week in October. The model himself will be chosen through voting by the show's audience and will be streamed through a web series to air in September on both the show's website and on YouTube. So basically, the contest will take longer than the time the winner gets to spend on the show. Which leaves me wondering what the point really is.
Modeling on The Price is Right is a career that has come with plenty of controversy, with several lawsuits being filed for sexual harassment as well as racial discrimination and some wrongful termination suits as well. It's only fair to let the men have a chance to be sexually harassed and discriminated against as well. It's all about equality, after all.
Your Daily Blend of Entertainment News
Thank you for signing up to CinemaBlend. You will receive a verification email shortly.
There was a problem. Please refresh the page and try again.