Project Runway Designs A Controversy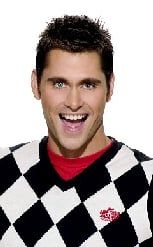 Though Project Runway's highly-anticipated 4th season isn't set to premiere until next month, it's already preceded by spoilers and controversy. So if you don't want to know anything about upcoming challenges or who gets kicked off (and the charges behind it) then stop reading now.
Still with me? There are a few big Project Runway rumors in the news today. According to the Gatecrasher column in the New York Daily News, two of the challenges in the upcoming season involve designing for rocker Bon Jovi and New York fashion icon Sarah Jessica Parker. More disturbing, however, are the allegations of HIV-bias on the show.
Make of this what you will, but an "inside source" is claiming that designer Jack Mackenroth is the 5th contestant to be "Auf'd." The source says that "[Mackenroth] is saying he got kicked off not because he lost a challenge, but because he got a 'staph' infection and said his face blew up like the kid from Mask." Staph infections are especially dangerous for those with HIV and can sometimes be contagious. Mackenroth's Project Runway bio states "Jack has…always been very open about his positive HIV status. Since his diagnosis in 1990, he has tried to combat the stigma of HIV by living honestly and being a role model through professional and athletic achievements."
Mackenroth, who like nearly all reality show contestants is bound by a confidentiality agreement, denies making this claim. In a statement released by Bravo, he says "People will say things about me whether they know me or not. Those were not my words and are fictitious."
If the substance of these charges are true and Mackenroth was eliminated after developing his Staph infection, I can believe that he feels his appearance contributed to his leaving the show. Whether it actually did or did not, I can't say. However, to charge Runway with HIV-bias is reaching. As his HIV status is mentioned prominently in is Project Runway bio, producers were obviously aware of this fact when he was cast. If they didn't want anybody on the show who is HIV-positive, wouldn't they have just…not cast him?
It will be interesting to not only see the episode in which Mackenroth is allegedly eliminated, but to hear what the players involved have to say after the confidentiality agreements are no longer in effect. So far, people involved with Bravo and Project Runway have been mum. Even Bravo's normally loquacious Senior Vice President of Production and Programming, Andy Cohen, didn't mention the controversy in today's blog entry, other than a reference to today being stressful. Perhaps he'll have more to say tomorrow.
Project Runway's 4th Season premieres Wednesday, November 14 at 10PM on Bravo.
Your Daily Blend of Entertainment News