I Doubt Even Tim Gunn Could Save Project Runway Season 17 For Me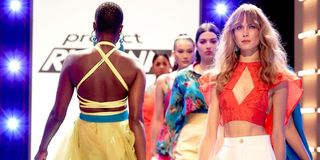 I tried. I'm still trying to Make It Work. I've seen every season of Project Runway and was thrilled to see the show move back "home" to Bravo for Season 17, even without Heidi Klum and Tim Gunn. I didn't boycott the show from their absence. I gave it a chance, and I'm always rooting for Christian Siriano. Change can be good.
But this season is just off.
It's not just one thing. I do think it's a combination of the judges' opinions, the challenges, the designs, the designers' comments on "curvy" models, the mentoring, the unfocused role of stylist Marni Senofonte, and the lack of anything like Tim Gunn or The Tim Gunn Save.
The lack of Tim Gunn alone is a flaw. His guidance, his honesty, his "I'm concerned" face, his questions without telling the designers what to do, just his presence. Christian Siriano was never really meant to replace him, he's taking a different approach as a designer himself, but as a mentor we could use the steady hand of Tim Gunn.
Nina Garcia is the only judge returning from the previous rendition of Project Runway. She was apparently sick and absent from the judging of the May 2 episode. I wish I had called in sick and missed it too. Almost all of the frustrations I've felt about Season 17 so far showed up in this week's episode. I consider Episode 8, "Blame It On Rio," a near total disaster -- except for seeing actress Morena Baccarin on screen.
Team challenges are better known for drama than for bringing out the best in Project Runway designers. Season 17's three teams were not very successful in creating mini collections for Morena Baccarin. But it was baffling to see the judges deem the best collection "safe." (Christian Siriano tweeted that he also disagreed with the judges on the top team.)
It's not new for Project Runway's judges to choose an early favorite I just don't quite get, and Hester Sunshine is that favorite for Season 17. I know I am not the only one who did not understand why her Rio bathing suit won. Tessa Clark's comments can occasionally grate -- there's an open condescension in general this season against curvy women and older women -- but I shared Tessa's confusion on Hester's winning look. And so we lost Renee Hill, in part because we couldn't lose Jamall, who had immunity from the last challenge.
I'm not a fan of immunity in a team challenge without the safeguard of something like a Tim Gunn save. If I were going to save someone this season, it probably would've been Afa Ah Loo a few episodes ago, but either way, the episode just left me confused on every front. Confused about the judges' favorite team. Confused about the judges' favorite look. Confused about who to root for at this point, with the judges seeming most high on Hester, who is giving me Season 15 Erin Robertson flashbacks.
Normally at this point, about halfway through a Project Runway season, I am invested in at least a couple of designers. So far, I have liked a few garments by remaining designers Sebastian, Bishme, Garo, and Tessa, but I'm finding it hard to get excited and root for anyone. I only really feel something if it's displeasure -- if the judges make a mean-spirited comment about a design right in front of the designer and model, or if the designers make a comment about the models, or if the judges just make a bizarre win/lose decision.
I don't want to be negative. I don't enjoy being cynical about a show I've loved for years. I want to be impressed and inspired. I don't want to look at Brandon Maxwell and just wish he could magically become Michael Kors (or even Zac Posen). That's not being fair. But it does feel like Project Runway has lost its shine for me -- maybe only for me, but based on comments I've seen, I don't think I'm alone.
I do want this universe to continue, since I actually enjoyed Project Runway Junior and Project Runway All Stars as much as the flagship show. If anything, I'm now rooting even harder for Project Runway to get a Season 18. This is not how the franchise should end. Get back on the horse, make a few tweaks, and try to bring back the magic of old school seasons like the one Christian Siriano won.
It's not like every season of the OG Project Runway was a success either, and Tim Gunn himself has been open about hating Season 14. We all have our opinions.
Whatever happens with Project Runway, I know Tim Gunn and Heid Klum have a new fashion show lined up at Amazon. There's no guarantee I'll love that one, but I'm looking forward to giving it a try. How are you feeling about Season 17 so far?
This poll is no longer available.
Gina grew up in Massachusetts and California in her own version of The Parent Trap. She went to three different middle schools, four high schools, and three universities -- including half a year in Perth, Western Australia. She currently lives in a small town in Maine, the kind Stephen King regularly sets terrible things in, so this may be the last you hear from her.
Your Daily Blend of Entertainment News
Thank you for signing up to CinemaBlend. You will receive a verification email shortly.
There was a problem. Please refresh the page and try again.