While We Wait For Disney's Cruella, Here Are 10 Other Movies And Shows To Watch Streaming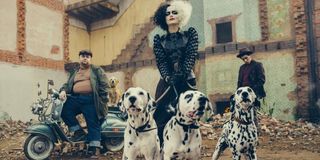 Cruella is one of Disney's most highly anticipated films. Emma Stone takes on the role of Disney's legendary evil-doer. Cruella takes place in 1970s London and follows Cruella de Vil as she tries to make it in the fashion world as a young designer, with a preference for Dalmatians skin designs. Cruella's supporting cast includes Paul Walter Hauser, Mark Strong, Joel Fry, and Emma Thompson.
Filming wrapped on Cruella in 2019 and it had an original premiere date of December 2020, but has since been moved to a May 2021 release. If you're like me, then you're very disappointed about the release delay, probably because you were looking forward to Emma Stone's spin on the fashion icon Cruella, and you enjoy a good villain origin tale. Cruella's delay isn't ideal, but Disney+ and other streaming services have plenty of movies and TV shows available to keep you busy while waiting for Cruella's release.
Here are a few movies and shows to check out.
101 Dalmatians (1996, Disney+)
Before Disney basically started to make live-action adaptation films every year, they took a chance in 1996 with a live-action remake of the 1961 animated film 101 Dalmatians. Glenn Close took on the role of the infamous Cruella de Vil. The cast also includes Jeff Daniels, Joely Richardson, and Hugh Laurie. In 2000, it had a sequel called 102 Dalmatians.
For many growing up in the 1990s and early 2000s, Glenn Close is the standard for Cruella de Vil portrayals, so naturally, people will compare Emma Stone's version to Close's version. It'll also be interesting to see if Stone takes any notes from Close's campy version or creates her own unique, style and character for Cruella.
Stream it on Disney+ here.
Once Upon a Time (Disney+)
Once Upon a Time is an ABC series that ran from 2011 to 2018. It follows the residents of Storybrooke, a town full of fairytale characters. Everyone in Storybrooke is originally from various fantasy lands, including the Enchanted Forest, but the whole town was put under a curse which caused them to believe they're all just regular people. Emma Swan (Jennifer Morrison), the daughter of Snow White (Ginnifer Goodwin) and Prince Charming (Josh Dallas) must break the curse, but she doesn't quite believe she's the savior. It's up to her son, Henry (Jared S. Gilmore), to convince her.
The best element of Once Upon a Time is that it adds complexity to villain characters. In the series, Victoria Smurfit plays Cruella. She is one of the series' most fun and devious villains. She first entered the series in season 4. Cruella fans might enjoy Once Upon a Time for the twists on fairytales and taking them slightly away from their animated counterparts, but still paying homage to their animated roots, which I assume Cruella will do as well.
Stream it on Disney+ here.
101 Dalmatians (1961, Disney+)
101 Dalmatians originated as a 1956 children's book of the same name. Disney's 1961 classic animation tells the story of a litter of Dalmatian puppies kidnapped by evil Cruella de Vil. She wants to use them to make fur coats. The Dalmatians' parents go on an adventure to retrieve the puppies and then end up with 84 additional children.
101 Dalmatians was a box office success for Disney and received a direct to DVD sequel in 2003. Fans of Cruella should watch the original Disney film to see how director Craig Gillespie will tie in both stories. Cruella is a prequel, so viewers will get to watch how Emma Stone's Cruella grows into the Cruella in the 101 Dalmatians films. Knowing Disney, they're also likely to include some Easter Eggs for fans of the other Dalmatians movies.
Stream it on Disney+ here.
Cinderella (Disney+)
Ella (Lily James) must deal with two wicked stepsisters and a wicked stepmother when her father dies. One night, she gets the chance to go to the ball with the help of a fairy godmother. She impresses the prince who goes on a quest to find her. Richard Madden, Helena Bonham Carter, and Cate Blanchett also star in Cinderella.
In my opinion, this has been one of the best Disney live-action adaptation movies of recent years. It follows the traditional Cinderella story but adds its own personality where it doesn't feel like the exact same movie as the animated one. Cruella fans might enjoy watching this one to see what Disney is capable of when they execute a good live-action remake. Cruella and Cinderella are also likely both stories about young women trying to find their place in the world, one just picks the path of puppy murder.
Stream it on Disney+ here.
The Favourite (Max Go)
The Favourite is a period piece about Queen Anne (Olivia Colman) and the two cousins trying to win her affection, Sarah, Duchess of Marlborough (Rachel Weisz), and Abigail Masham (Emma Stone). The Favourite won Olivia Colman a 2019 Academy Award for Best Actress.
Emma Stone gives one of her best performances ever as Abigail. Stone plays a more villainous character than her normal roles, and she makes you despise Abigail, but also admire her cleverness. The Favourite is probably the closest Stone fans may get to a glimpse of how her version of Cruella may play out. Like Abigail, I expect Cruella to be a ruthless opportunist who is also the victim of her situation and ambitions.
Stream it on Max Go here.
Maleficent (Disney+)
This Disney original film tells the story of Maleficent (Angelina Jolie), the infamous villain of Sleeping Beauty. The film gives a more layered look at this character and explains how her villainy began. It's supposed to make viewers have some sympathy for Maleficent and root for her. It also stars Elle Fanning and Sam Riley. In 2019, Disney made a sequel Maleficent: Mistress of Evil.
Of the Disney live-animated features, Maleficent is probably the most similar to Cruella in concept. They're both films that are reimaginings that show a different perspective of these once pure villainous characters. We're sure Cruella will still be evil, I mean she wants to kill puppies, can't get more evil than that, but the audience will get added depth and intricacies to Cruella that's not there in the animated version.
Stream it on Disney+ here.
Descendants (Disney+)
In 2015, Disney launched its Descendants series on The Disney Channel. The first movie follows a group of children who are offsprings of Disney villains, like Maleficent (Kristin Chenoweth)'s daughter Mal (Dove Cameron), Cruella de Vil (Wendy Raquel Robinson)'s son Carlos (Cameron Boyce), Jafar (Maz Jobrani)'s son Jay (Booboo Stewart), and the Evil Queen (Kathy Najimy)'s daughter Evie (Sofia Carson). The children are released from their prison world and allowed to join the good fairytale citizens. The villain children don't have an easy time adapting at first, but they start to find their place in this new world.
Disney currently has three movies in the Descendants franchise. Cruella fans may enjoy this one because it's another Disney film that reexamines the ideas of Disney villains and gives them more of a 3D depiction, instead of allowing them to be one-note, as portrayed in many of the animated films.
Stream it on Disney+ here.
I, Tonya (Hulu)
I, Tonya is a black comedy about the events of the 1994 Olympics and the attack on Nancy Kerrigan (Caitlin Carver). It's about Tonya Harding (Margot Robbie) and her quest for Olympics gold. For many years, Tonya Harding has been painted as the villain of this scandal, but I, Tonya takes a more sympathetic approach to the story and the real-life figure. It portrays Tonya as much as a victim as Nancy Kerrigan. Tonya is shown suffering years of abuse from her mother LaVona (Allison Janney) and husband Jeff (Sebastian Stan).
We'll never know the whole truth about what happened and Tonya's involvement, but the film really tries to clear Tonya's name and tries to de-villainize her. Cruella will be about a fictional villain, but it will probably take a similar approach of giving the character more of a sympathetic portrayal, maybe even showing her as a victim of society, circumstances, or one thing or another,.
Stream it on Hulu here.
Into The Woods (Disney+)
This musical, based on the Stephen Sondheim Broadway show of the same name, follows various fairytale characters as they deal with different life issues and battles giants, wolves, and witches. Into the Woods features an ensemble cast that includes Meryl Streep, Emily Blunt, James Corden, Chris Pine, and Anna Kendrick.
Into the Woods is a more adult retelling of beloved fairytales like Cinderella and Little Red Riding Hood. One of the most interesting parts of the original musical and the movie is how it makes The Witch (Meryl Streep) so much deeper and one of the most fascinating characters. She's evil but also grown deeply attached to her daughter Rapunzel (MacKenzie Mauzy), and like any good overprotective parent wants to shield her from the cruel world. Cruella fans might enjoy Into the Woods for its imaginative take on typical fairytale stories, both showing the villains and heroes as people with character flaws, but also doing what they feel is right.
Stream it on Disney+ here.
Project Runway (Hulu)
Project Runway is a reality series about designers, usually undiscovered, competing for a chance to show at New York Fashion Week, a feature in a global fashion magazine, and a cash prize to start their own collection. Each week, contestants have a themed challenge and must design outfits based on that theme. The series has been on air since 2004.
Cruella will deal with the fashion industry and Ms. de Vil's desire to make it during the 1970s, so Project Runway could be a good series to binge if the fashion element of the movie appeals to you. It's also a good show to see how ambition and fashion could lead to some shady reality TV behavior. Hulu currently has season 8 to 16 available to stream.
Stream it on Hulu here.
I also recommend The Devil Wears Prada, which unfortunately isn't available to stream but is available to rent or buy. I think Cruella may take a lot of inspiration from that film. Cruella is set for a May 28, 2021 release. This may feel like a long time, so make sure to binge-watch as many of these movies and shows as possible to speed up the wait.
Your Daily Blend of Entertainment News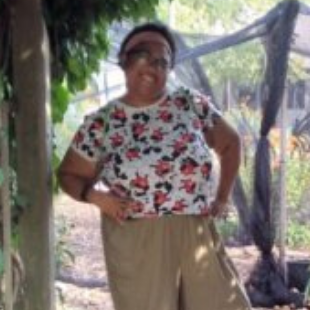 Spent most of my life in various parts of Illinois, including attending college in Evanston. I have been a life long lover of pop culture, especially television, turned that passion into writing about all things entertainment related. When I'm not writing about pop culture, I can be found channeling Gordon Ramsay by kicking people out the kitchen.