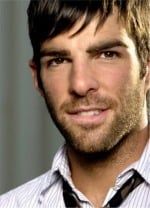 Yes, it's true. Another Star Trek film is coming to the big screen, and Zachary Quinto – the evil Sylar on NBC's 'Heroes' – is donning the pointy ears to play young Spock.
Casting for the 11th installment of the never-ending franchise was revealed Thursday at the San Diego Comic-Con International by director J.J. Abrams, whose long string of TV hits includes 'Lost,' 'Alias,' and 'Felicity.'
Due out by Christmas of 2008, the movie will also star the original Spock, Leonard Nimoy, who greeted the crowd with a Vulcan salute. "This is really going to be a great movie, and I don't say things like that lightly," he said, adding that Quinto is the "logical" choice for the role because of his resemblance to a young Nimoy.
As for Quinto's status with 'Heroes' next season, he noted that since any character can die at any time, he's always grateful when his name shows up in the script each week. He teasingly added, "It's like the beginning of the season for all the characters. It just opens and you hit the ground running. All the stories are so new and so different, and I think people are going to be really surprised with the extremity of direction we go in, compared to where we ended last year.".
While plot details for the Star Trek movie were not revealed, it's rumored to revolve around the first encounters between a young Spock and Capt. Kirk. Let's hope they can breathe new life into the franchise that died somewhere in the Kirk/Picard scene in 1994's Star Trek: Generations.
Your Daily Blend of Entertainment News
Thank you for signing up to CinemaBlend. You will receive a verification email shortly.
There was a problem. Please refresh the page and try again.