Regis Philbin Wants To Sleep In More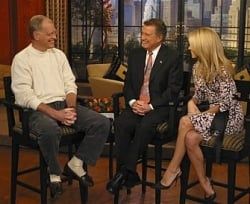 I love nothing more than when celebrity interviewers are people who clearly hate celebrities. I love it when David Letterman lets his boredom show through and doesn't even bother to hide the fact that he hasn't seen the movie or watched the TV show that his hapless starlet guest du jour is promoting. I especially love it when Regis Philbin can't even pronounce his guest's name, making it clear that he that he hasn't heard of, nor does he give a damn about anyone who didn't become famous during the Rat Pack's heyday. He hangs out with The Donald and performs on cruise ships with his wife. This is a man who does not need Hannah Montana.
This is why I'm sad to hear that after twenty years of hosting Live!, Regis is slowly starting his retirement. Jossip is reporting that during this morning's "host chat" segment of his show, Philbin revealed that starting next season, he is switching to a three-day work week. There is no word yet on whether Reege will be replaced with a permanent Thursday/Friday host, or if the spot will be filled by Live's revolving-door group of stand-ins. Earlier this year when Regis missed about five weeks of work due to heart bypass surgery, everyone from the aforementioned Donald Trump, to Anderson Cooper to Neil Patrick Harris filled in for him.
While it's only logical that Philbin would be ready to retire, (the man is 76, after all) his appearance and fitness level belies his age. I grew up watching Regis and Kathie Lee; Philbin has always just been one of those TV personalities who has always been there, at least in the background. While I'm sad he's not going to be around five days a week any more, I'm hopeful that the break will allow him to keep at the job longer—and hopefully no one will ever tell him that that Hannah Montana and that Miley Cyrus girl are the same person. It's much more fun when he figures these things out on his own.
Your Daily Blend of Entertainment News
Your Daily Blend of Entertainment News
Thank you for signing up to CinemaBlend. You will receive a verification email shortly.
There was a problem. Please refresh the page and try again.