Review With Forrest MacNeal Starring Andrew Daly Gets The Green Light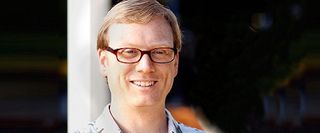 I have always wondered how the big moments of my life might measure up under the scrutiny of a critic, haven't you? Well now Americans can join the Australians who already enjoy this privilege, thanks to Comedy Central. A pilot for Review with Forrest MacNeil has been given the greenlight for a pilot, and will be based on a similar Australian series according to Deadline.
The American version will star Andrew Daly, who will take audience suggestions for which life experience should be given a review based on a star system of one through five. And that's not all; the host of the show, Forrest MacNeal (played by Daly), takes each experience in turn and actually lives it in order to give it an accurate review. This of course causes plenty of trouble in his personal life, as some of the life experience up for review include going through a divorce and having sex with a stranger.
Daly just finished filming the most recent season of HBO's Eastbound and Down and has spent some time in front of the Comedy Central cameras in the past; he joined other comedians on Lewis Black's Root of all Evil and had a stand-up special air as well. Now he will step into the Americanized shoes of Phil Lloyd, who starred in the Australian original of the series.
I can think of some fabulous life experiences that I would like to see reviewed. It's too bad that the fictional Mr. MacNeil can't give childbirth a shot, no matter how dedicated he might be to his job. That's a five star experience, at least as long as you go for the epidural.
Your Daily Blend of Entertainment News
Thank you for signing up to CinemaBlend. You will receive a verification email shortly.
There was a problem. Please refresh the page and try again.