Rick Schroder Directs SciFi Telefilm Hellhounds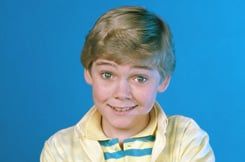 Hollywood Reporter posted an article just a short while ago about a new telefilm being developed for the SciFi Channel. The film is titled Hellhounds and is being directed by none other than Rick Schroder.
"The movie, set in 500 B.C., stars Scott Elrod ("Men in Trees") as Kleitos, a Greek warrior who with his companions fights against the hellhounds of Hades to rescue his bride from the Underworld and bring her back to life. The telefilm, written by Paul A. Birkett, is said to be full of CGI and special effects."
This won't be Rick's first time in the Director's Chair. His video for Brad Paisley's Whiskey Lullaby won Video of the Year at the Country Music Awards, and he was also the director for 2004's Black Cloud. But you know when you think of Ricky Schroder you think Silver Spoons. How can little Ricky be the director of a telefilm called Hellhounds?
Well, I'm always up for anything set in ancient Greece. It really sounds like it's going to be an interesting show. When more details come, we will report them!
Your Daily Blend of Entertainment News
Thank you for signing up to CinemaBlend. You will receive a verification email shortly.
There was a problem. Please refresh the page and try again.